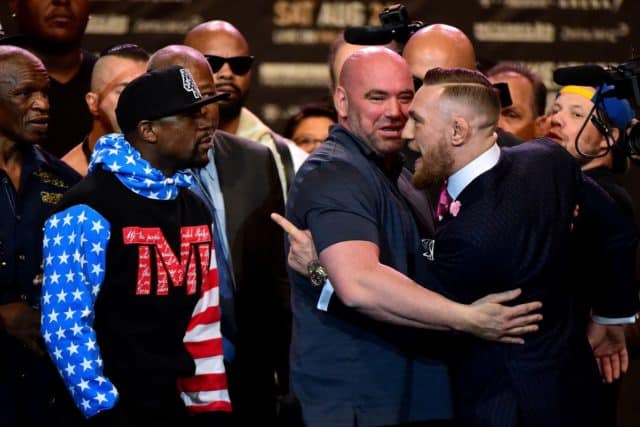 It was recently announced that the Nevada State Athletic Commission (NSAC) had agreed to make an exception regarding the size of the gloves that will be used in the highly anticipated Aug. 26 boxing match between Floyd Mayweather and Conor McGregor.
The two stars will fight at a weight of 154 pounds, which typically means that 10 oz. gloves are used, but the commission agreed to allow 8 oz. gloves to be used after a request for change was made by "Money".
Upon the announcement of the change, McGregor voiced his pleasure, even going as far to say that he will finish Mayweather in the first round.
UFC President Dana White is also confident that the Irishman will score a finish over the unbeaten Mayweather:
"Conor worked like a dog last night, he's in great shape," he said during a recent media conference call. "He's hitting really hard right now and he's in a very good place. I loved watching it last night and I feel good about this."

"I'm on his side on this thing, I want him to win, I expect him to win, I expect him to knock Floyd Mayweather out."
In regards to those who feel as if McGregor doesn't have a chance against Mayweather, White simply doesn't agree:
"Listen, people think that Conor is going to be completely outclassed," he said. "Some people are saying that he'll never hit Floyd once. I'll tell you this, I just watched him work out last night, he looks phenomenal, he's in great shape. He hits hard and now we're fighting in 8oz. gloves and this is going to be a fight. And anything can happen in a fight."
No matter the outcome, McGregor will certainly earn the biggest payday of his career, which is why many are skeptical as to whether or not he'll return to the UFC after the bout. White admits that he's unsure, but he did say that the Irishman has said that he'll be fighting in the UFC again:
"Conor has told me he's going to fight again this year, but I don't know what's going to happen," he said. "You can't put these guys on the shelves all this time. We'll see what happens with this fight, and that fight [Ferguson vs. Lee] is gonna move forward and we'll see what's next for Conor."
How do you expect the fight between Mayweather and McGregor to play out?