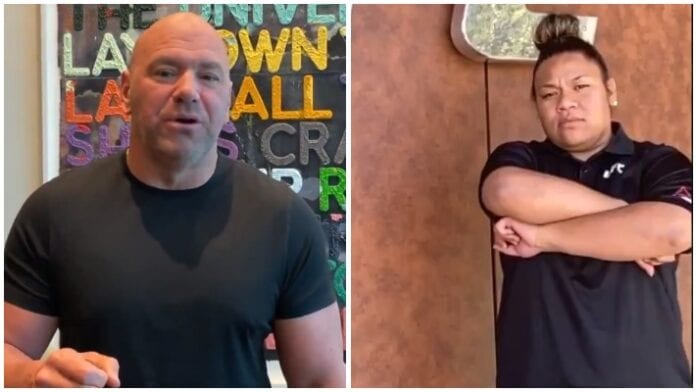 Dana White has hired Summer Tapasa-Sataraka making good on his promise to offer the 24-year-old a job after she was fired by Best Buy for tackling a would-be thief earlier this year.
For those who don't remember, Tapasa-Sataraka thwarted an attempted robbery and went viral in the process in January. The new UFC corporate security officer can be seen taking down a man who is trying to leave the Aiea, Hawaii, Best Buy store without paying. Tapasa-Sataraka lost her job as a result but caught the eye of UFC boss White who offered her complimentary tickets for UFC 246 and a job with his company should she ever want it.
White took to social media yesterday to announce Tapasa-Sataraka was now officially a UFC employee, he said.
"Do you remember the girl Summer that worked for Best Buy as security in Hawaii? Somebody was stealing a TV and she beat his ass and she stopped him from stealing the TV. She got fired by best Buy which I thought was horrible."
"I brought her out to Vegas. I offered her a job here. She went back to Hawaii, she weighed all her options and she decided to work for UFC. She is now a UFC employee, so for all of you thinking about fucking around here at UFC you will get your ass whooped by Summer," he added before the video shifted to Tapasa herself.
Summer also featured in White's post where she introduced herself and spoke about her new role with the UFC, she said.
"My name is Summer Tapasa and I am a UFC corporate security officer. I have been working with UFC for eight days and I am looking forward to expanding my career and hopefully moving on up." (Transcribed by MMA Mania)
Are you happy to see Dana White stay true to his word by offering Summer Tapasa-Sataraka a job?