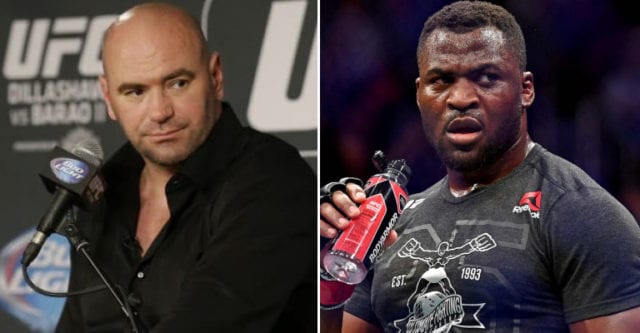 Instead of the action-packed thrill ride nearly everyone expected it to be, the heavyweight co-main event between Derrick Lewis and Francis Ngannou at last night's (Sat., July 7, 2018) UFC 226 from T-Mobile Arena in Las Vegas, Nevada, was a baffling letdown.
A mix of No. 1-ranked Ngannou, who only just lost a title shot after demolishing six UFC foes in a row, and No. 5 Lewis, who had quickly become known as one of MMA's heaviest hitters, was rightfully hyped as one of the more explosive match-ups the UFC could sign. But it ended up a staring contest of sorts, with Lewis landing excruciatingly few strikes yet still doing more than Ngannou, who did literally almost nothing.
The fight could realistically be called the worst heavyweight fight in UFC history, and UFC President Dana White justifiably voiced his disgust for how the fight turned out at the post-fight press conference (via MMA Mania). Six months after he and the UFC promoted Ngannou more than then-champion Stipe Miocic heading into their fight at January's UFC 220, Ngannou is now on White's bad side after the exec sounded off on what he called ego problems:
"Horrible," he said. "I think that [Ngannou] had a pretty quick rise here and obviously the fight over Alistair Overeem catapulted him, everybody was talking about him," White said. "I thought he was going to be the next [big] guy. I think his ego ran away with him, big time. I can tell you that his ego absolutely did run away with him. The minute that that happens to you in the fight game, you see what happens. You start to fall apart.

"I had some personal encounters with him, as did other people in the organization, and this guy's ego was just so out of control," White continued. "It's like, before the Stipe fight, he took off and went to France. Didn't even really train for that fight. And you see the results. Well, he came back and did train [this time], but ego is what hurt Francis Ngannou."
So "The Predator" is in White's doghouse after being the perceived future of the UFC heavyweight landscape – and being promoted as such – as recently as early this year.
That's never a good place to be when you're coming back from back-to-back losses, so we'll see if Ngannou is able to mend the fences with his employers and get a big fight his next time out to the cage. He was still ranked No. 1 and while he'll obviously fall, he does have the fact that the heavyweight division lacks a long roster of viable top contenders.
But would he deserve a bout with one of even a weak division's best after his showing last night?