Although legendary former Pride FC champion Fedor Emelianenko technically won a majority decision over Fabio Maldonado in the main event of last Friday's (June 17, 2016) Eurasia Fight Nights (EFN) 50 from St. Petersburg, Russia, the bout was also almost universally met with a shroud of controversy from a large number of both MMA media and fans.
Many thought the bout, which was the second of Emelianenko's MMA return after he retired in 2012, should have at the very least been scored a draw after Maldonado, following an early first-round flurry from Emelianenko, scored a huge counter right hand that grounded 'The Last Emperor' and left him open for an absolutely vicious onslaught of ground and pound, during which Fedor appeared to be out in more than one instance.
Yet the stalwart face of Russian MMA fought on, somehow rising to extremely wobbly feet and persevering to win the final two rounds with an outpouring of offense on a clearly fading Maldonado. Most felt as if the first round was clearly a 10-8 and perhaps even a 10-7 score for Maldonado, so 10-9 scores for Fedor in the final two rounds would have made the bout at worst a draw. Yet two of the cageside judges, who were revealed to be a part of the Russian MMA Federation led by Emelianenko, didn't see it that way, awarding him the majority decision by way of two 29-28 scores, a result that was appealed by Maldonado's camp and is expected to be upheld.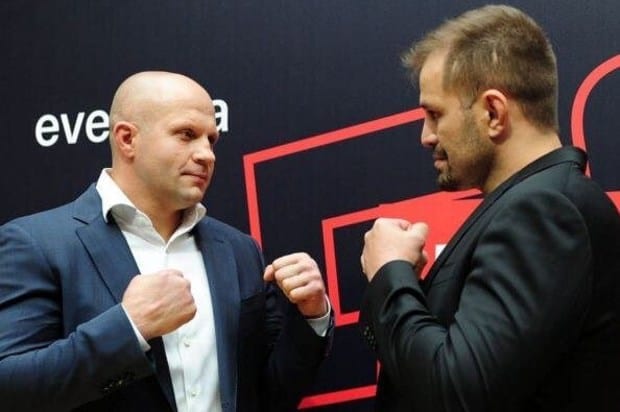 The fight was a spectacle that has been talked about ever since based on its seeming ability to predict that Emelianenko is no longer at the top of the fight game, and also to supposedly shut a light o the supposed corruption in place in Russian MMA. While those may be valid if somewhat unsubstantiated points of discussion, a bigger point of emphasis may be the bout's impact on whether or not Fedor finally signs with the UFC.
With Emelianenko recently stating that a UFC signing was 'closer than ever' and his EFN 50 win aired on UFC Fight Pass, it would seem that 'The Last Emperor' finally making the UFC debut that has been tirelessy discussed for years was becoming a foregone conclusion. While many cast that in doubt after his controversial and some would say lackluster win over Maldonado, UFC president Dana White understandably isn't one of them.
Appearing on the debut episode of "UFC Unfiltered" with former UFC welterweight champion Matt Serra and comedian Jim Norton, White detailed his view of the bout, noting that the Russian referees were looking for every reason not to stop the fight. He also praised Emelianenko's chin and heart to rebound from such a beating:
"They were going to let him die before they stopped that fight, you know that?" White said. "But a testament to how tough and durable and mentally strong Fedor is, man. He was out. He was out. Literally, when he got back up … when a guy is on crazy legs the way that he was on crazy legs, and it's not like he was on crazy legs and able to avoid punches after that. He continued to get hit with bombs by Maldonado and he made it through it.
"But I'll tell you this: Those refs were willing to let him die before they stopped that fight, No. 1. And No. 2, Fedor's got a chin and he's a tough guy."
White then declared Emelianenko vs. Maldonado a rousing success on UFC Fight Pass, adding that while people may still think he lost, fans still want to see him in the octagon after so many years of rumor, speculation, and letdown:
"We've been negotiating for many, many, many years," White said. "I'll tell you this: Fight Pass did very well with that fight, so people do still want to watch Fedor."
So with Fedor still potentially headed for his UFC debut and Brock Lesnar surprisingly making his return at UFC 200, MMA are shockingly closer to witnessing the long-rumored Fedor vs. LEsnar showdown than they ever have been.
True, seven years later they may be out of their physical primes, but to even have that chance right now is a succinct synapsis of the current state of the UFC and the fight game as a whole.
Crazy times we live in.