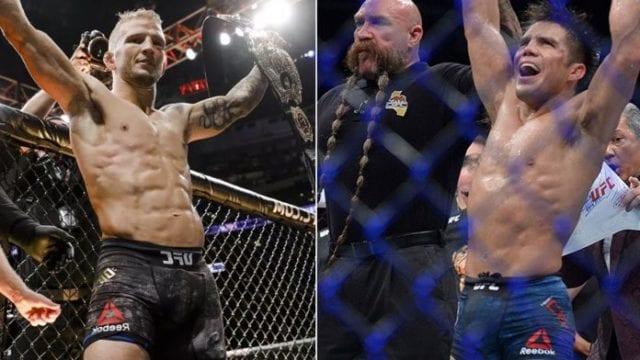 Dana White addresses the decision to move the big fight between Henry Cejudo and TJ Dillashaw with the UFC flyweight title up for grabs. This fight was originally slated for the UFC 233 PPV event on Saturday, January 26, 2019 at Honda Center in Anaheim, California.
However, that had to be moved up about a week as the UFC needed a big main event for their first show as part of their new TV deal with ESPN. Dillashaw will move down 10 pounds to challenge for Cejudo's 125-pound belt.
Dana White Addresses Decision
The UFC President recently addressed this decision during an interview with MMAJunkie where he noted that this isn't the first time they made this call. Back in 2011, the UFC was in a similar situation with promotion's network television debut on FOX.
They decided to book a heavyweight title fight between then-champion Cain Velasquez and Junior Dos Santos. This fight served as the headliner for UFC on FOX 1 while it could've easily been on PPV. It was a smart call by White as it was a qualified ratings success with 5.7 million viewers.
"We did it last time when we launched, too," White on Thursday told MMAjunkie.
White also made it known that he's not worried about Dillashaw trying to cut weight despite the fight taking place a week earlier.
"I don't worry about a lot of that stuff," he said. "These guys are professionals. Dillashaw has been around for a long time and knows what he's doing."
UFC On ESPN + 1 (also known as UFC Fight Night 143) is set to take place on Saturday, January 19, 2019 at Barclays Center in Brooklyn, New York. The main card will air on ESPN + 10 p.m. ET.
The preliminary card will be split broadcasted on ESPN 8 p.m. ET and the TV network's streaming service, ESPN + Fight Pass. The promotion will be announcing more bouts for this show in the coming weeks.

If you enjoyed this story, please share it on social media!