Cub Swanson Won't Let Loss To Frankie Edgar Shake His Confidence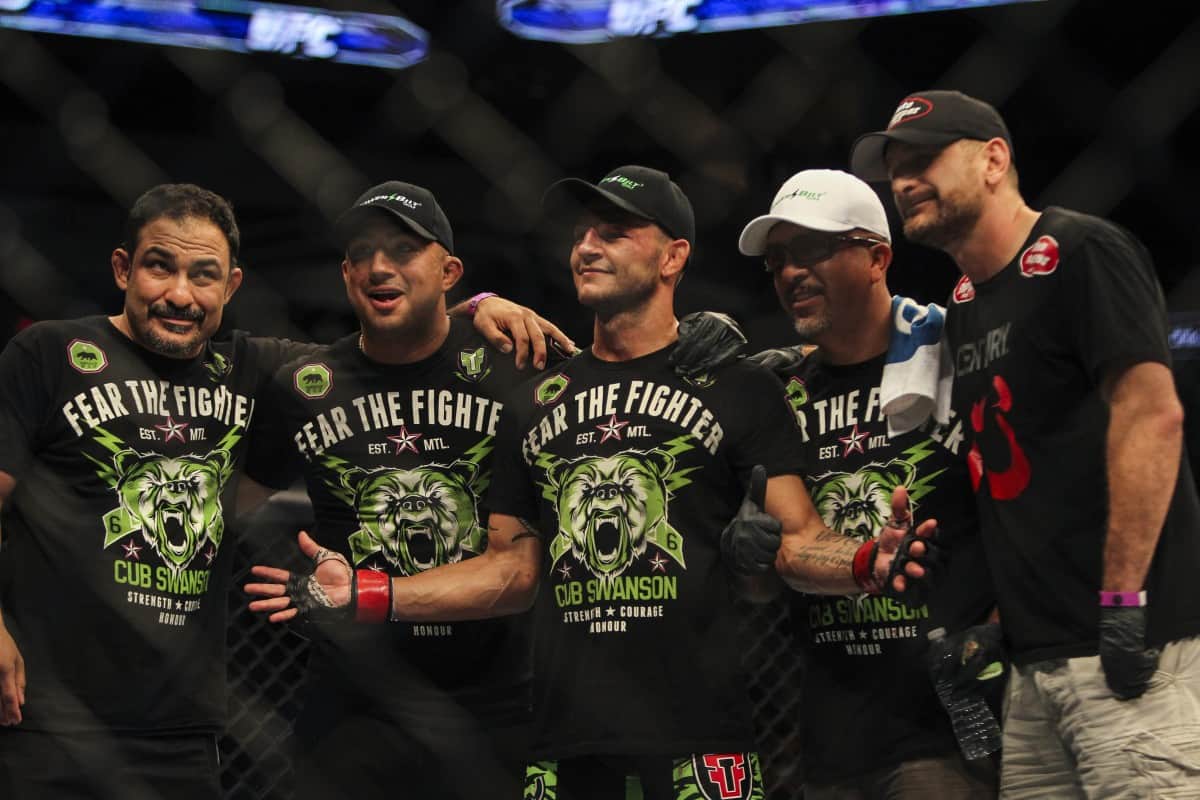 On the cusp of a title shot with six straight victories heading into his UFC Fight Night 57 main event against Frankie Edgar last November, no. 5-ranked featherweight Cub Swanson was humbled by a five-round smothering courtesy of "The Answer's" dominant top game.
The loss sent "Killer Cub" down the ladder in the suddenly crowded division, leaving him to claw his way back up the rankings with several wins. Just days before his comeback fight against streaking no. 9 Max Holloway at UFC on FOX 15 this weekend (Saturday, April 18, 2015), Swanson told UFC.com's Duane Finley that, despite the one-sided nature of his loss to Edgar, his confidence hasn't been rattled.
He believes he's simply a better fighter than Holloway is, and he's planning on proving that in New Jersey.
"My last fight was a rough little go, but it didn't shake my confidence at all. I'm a fighter and those nights happen. People are going to make mistakes and have off nights, but it's how you respond to adversity and get back up that matters. Sometimes you think you are prepared and you aren't. But that's the fight game. My confidence is right where it always is, especially for this fight. It plays right into my style. I respect what (Max) Holloway brings to the table, but I just feel like I'm better. I'm going to go in there and prove it."
Ever the calm competitor, Swanson is accepting of the fact that you're going to absorb pivotal losses when you're fighting the absolute best in the world, and a lot of being an elite fighter is rebounding from those losses by making yourself better. He believes he has the perfect opponent and stage on which to do that this weekend, as Holloway is a fighter who loves to take part in knockdown bouts:
"It's definitely a fight that makes sense," Swanson said. "Max has been doing great. He's had a couple of tough losses, which one of them I felt like he won the fight. He's been game in every fight and I like him. I like the way he fights. From the perspective of where we are both at in our careers this fight made a lot of sense and it's one those 'Hell Yeah' fights stylistically. We are both guys who go in there and throw down. Fans love that and this fight is on FOX so it's a great stage to put on a show."
Overall, Swanson wants to enjoy his time in the UFC, win or lose. He knows that he's worked hard and obtained a great opportunity, but it's one that won't last. So even if he comes up short in the octagon, he doesn't want to look back on his life or fighting career with regrets:
"The thing that has really been big in my mind throughout my entire time in the UFC is to really make sure I enjoy this," Swanson said. "The ups and downs…I'm trying to enjoy all of it. That's been the biggest thing for me. I constantly remind myself this thing isn't going to last forever and I don't want to look back at this when it's over and regret not enjoying it more or not taking advantage of opportunities."
Photo Credit: Troy Taormina-USA TODAY Sports