Invicta FC featherweight champion and current UFC catchweight competitor Cristiane Justino is in a weird place right now. After finally debuting for the UFC in Brazil this past May, Cyborg has found a new opponent that's far more dangerous than any woman alive. The Brazilian knockout artist is somewhat being backed in to a corner by issues with weight cutting. Her horrific cuts to 140 pounds are clearly very dangerous. The UFC is not interested in making a women's featherweight division, so Cyborg is left with little choice.
Unable to make the bantamweight limit of 135 pounds means Justino has missed out on a career-making rivalry. When Ronda Rousey was the champion of the division, she and Cyborg shared a nasty feud. "'Rowdy' and even UFC president Dana White would share some rather spiteful jokes about Cyborg's appearance, once even claiming the Brazilian looked like 'Wanderlei Silva in a dress."'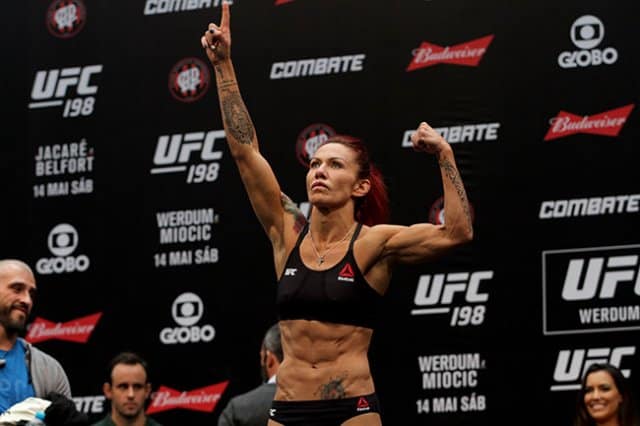 UFC 198
Cyborg looked insanely good against Leslie Smith at UFC 198, but the same could not be said for her pre-fight weight cut. After winning by first round TKO, Justino once again blasted Ronda Rousey. According to Cyborg, Rousey was a scared little girl in a woman's game. Speaking with TMZ yesterday, it appears Cris Cyborg has somewhat lightened her tone on the ex-champion. She still believes Rousey is a bad role model, but at the same time sounds more encouraging when discussing a possible fight with her nemesis.

"I don't think it's a good example to set for kids, that you should quit when you lose. Life is hard, bad things happen to everyone
,
you can't just quit. You have to use it to make you stronger."
The opportunity to fight against Rousey has been close at times. Following a massively rumoured UFC debut in 2015, negotiations seemed to fall apart due to weight related issues again. Rousey would go on to face Holly Holm at UFC 193, and the result in Melbourne would change everything. "'The Preacher's Daughter' beat the daylights out of 'Rowdy,' and two more champions would follow in Miesha Tate and Amanda Nunes.
With the division seemingly wide open, Dana White hinted this week that Rousey vs. Nunes is likely before this year is up. Will the long-fabled fight between Cris Cyborg and Ronda Rousey ever happen? Once again it depends on whether 'Rowdy' is willing to move up, because Cyborg can't go down any further.