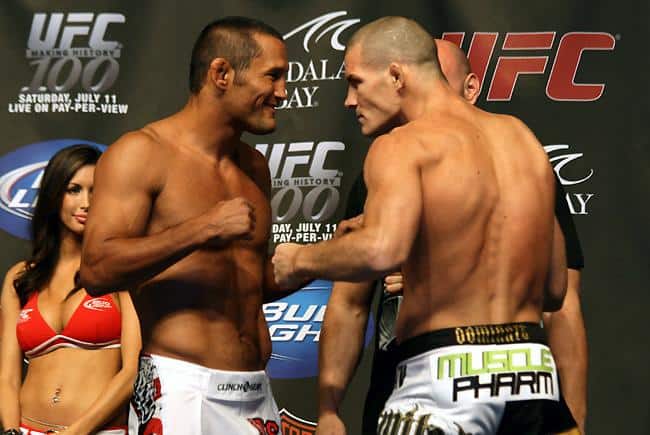 After being asked to step up on extremely short notice to face off with Luke Rockhold for the middleweight title at June 4's UFC 199, Michael Bisping wasn't given much of a chance by the MMA community. However, he then shocked the masses, knocking Rockhold out cold in the very first round to become the undisputed champion.
Perhaps even more shocking then his victory, however, was his choice of who he would like to first defend his title against. Rather than one of the division's top contenders, Bisping has his eyes set on No. 13-ranked ageing veteran Dan "Hendo" Henderson.
There is quite back story here, as "Hendo" infamously finished Bisping with one of the most iconic knockouts in sport history back at UFC 100 in 2009, but from a rankings standpoint, it simply doesn't make much sense. Crazy or not, however, UFC President Dana White recently admitted that he was considering the possibility:
"I know a lot of people want to see that fight, but there's so many guys that we would have to jump over to do that fight. But most of them are hurt. 'Jacare' is hurt, Weidman's hurt, Rockhold just lost. So I wouldn't rule it out. He's saying win, lose or draw, if he fought Bisping in a title fight he would retire. But if wins the belt I highly doubt he would retire. I don't know, it's a tough one. I've questioned over the last year whether Henderson should still be fighting at 45, but it's hard to deny the guy when he's taking people out the way that he is." White said on a recent edition of the UFC Unfiltered podcast.
Despite his age, Henderson is indeed coming off of a brutal stoppage victory over Hector Lombard at the very event in which Bisping toppled Rockhold for the title, but is he deserving of a title shot? Many would likely agree that he's not given the current landscape of the division, although the interest for a rematch between Bisping and Henderson seems to be there.
Would you like to see these two veterans run it back?