UFC lightweight champion Conor McGregor's larger-than-life personality has played a major role in helping him rise to fame and fortune on a scale never seen before in MMA, but it's also led to a series of highly contentious flashpoints during his five-year stint in the UFC.
In this article, we'll count down McGregor's top 10 most controversial moments, and in the process demonstrate how he has the perfect nickname for a fighter, given that he seems to be becoming more "Notorious" with each passing day.
No. 10: Homophobic Slur in Poland
McGregor showed up to cheer on his teammate Artem Lobov at UFC Fight Night 118 in Gdansk, Poland back in October, and was soon making headlines for all the wrong reasons.
The lightweight champion cut an animated figure during Lobov's fight with Andre Fili, pacing around the Octagon and yelling instructions to his team-mate, causing such a commotion in the process that referee John Goddard took the unprecedented step of momentarily stopping the fight to order the Irishman back to his seat.
McGregor obliged, but backstage after the fight, the cameras were rolling as he was overheard repeatedly calling Fili a "f**g*t" while consoling the defeated Lobov – a slur that would soon go viral amid accusations of homophobia.
Whether a coincidence or not, McGregor's media appearances to promote his new 'Notorious' documentary were drastically scaled back after this incident, though he did issue a public apology during an interview on The Late, Late Show just a few days later.
"I'm human, I slip up, I say stupid things every damn day. All I can (do) is hold my hand up and apologise if anyone was offended," McGregor said on the Irish chat show.
No. 9: Chris Van Heerden Leaked Sparring Footage
While Conor McGregor's leaked sparring footage with Paulie Malignaggi may have generated more headlines, it mirrored another controversial situation that had happened the previous year with another former boxing champion, Chris Van Heerden.
At the time McGregor was looking to work on his boxing ahead of his rematch with Nate Diaz and so former IBO welterweight champ Van Heerden agreed to spar with him in Los Angeles, believing their sessions would be for their eyes only.
However, soon afterward, edited highlights that showed McGregor appearing to have the upper hand appeared on both TMZ and 'The Mac Life' with Van Heerden's permission.
Angered by the situation, Van Heerden quit the Box 'N Burn gym due to the leak and soon after retaliated by releasing a longer portion of unedited footage he had in his possession that put a different complexion on how their sparring sessions had transpired.
No. 8: Grabbing Jose Aldo's Title Belt
Tensions ran high throughout McGregor's world media tour with Jose Aldo back in 2015 but threatened to completely boil over on the final leg in front of a fired-up Dublin crowd.
McGregor had already created quite a stir in the days prior, stating during a stopover in Rio De Janeiro, Brazil that, "if this was a different time, I would invade his favela on horseback, and would kill anyone who wasn't fit to work."
In Dublin, Aldo was looking to get his own back, and so amid a hostile reaction from McGregor's fans, he declared, "I'm the king of Dublin."
That brought an instant response from McGregor, who yelled back, "you're looking at the king of Dublin!" while leaning back and slamming his feet up on the desk in front of him.
McGregor then sprang to his feet, reached over to Aldo's side of the podium and grabbed his rival's title belt, before defiantly raising it above his head.
As the fans roared in delight, Aldo reacted furiously and had to be held back by Dana White as he tried to get at McGregor, who continued laughing and shouting, "What ya gonna do?".
This was mental warfare on a level never seen before in the UFC, and it paid off for McGregor months later when he KO'd Aldo in just 13 seconds.
No. 7: Accusations Of Racism On Mayweather vs. McGregor World Tour
During The Mayweather Vs McGregor media tour both fans and the world's media hung on every word the two fighters said, but in that pressure cooker environment, both fighters made controversial remarks that they would later regret.
During the first leg of the tour in L.A. Mayweather started shadowboxing on stage during his speech, at which point McGregor mocked him by stating, "Dance for me, boy!"
The spur-of-the-moment quip led to a backlash as in the U.S. the phrase has racial overtones.
Hailing from Ireland, McGregor was likely unaware of this, but only dug himself a deeper hole in New York City a couple of days later when he tried to dismiss the notion that he was a racist.
"I'm half-black from the bellybutton down," McGregor claimed to a muted reception on-stage in Brooklyn, before doubling down by gyrating his hips while stating that this was, "a present for my beautiful, black female fans."
McGregor later expressed regret that his attempt to make light of the situation had only further intensified the accusations of racism against him.
No. 6: No-Showing UFC 200 Pre-Fight Press Conference
Conor McGregor set the cat amongst the pigeons in the summer of 2016 when he refused to show up to a UFC 200 pre-fight press conference to promote his headlining rematch with Nate Diaz, claiming that it was too much of a distraction to fly over from Europe while he was in training camp.
That led to a battle of wills between McGregor and UFC President Dana White, who remained adamant that his presence at the event was mandatory.
On the day of the presser McGregor was nowhere to be seen and so White stood his ground, declaring that his fight with Diaz had now been scrapped from the event.
McGregor then practically broke the internet when he retaliated on social media by writing, "I have decided to retire young. Thanks for the cheese. Catch ya's later."
Nevertheless, White refused to back down, which ultimately led to the historic UFC 200 event failing to live up to the hype, though all ended well when McGregor scrapped his spur-of-the-moment retirement plan and agreed to fight Diaz at UFC 202 a month later, resulting in record-breaking numbers on pay-per-view.
No. 5: Putting Showtime Sports Exec On Blast
McGregor left everyone's jaw dropping wide open when he dared to call out Showtime Sports head honcho Stephen Espinoza live on-stage during the Toronto leg of the Mayweather vs. McGregor pre-fight world tour.
Everyone was expecting McGregor to rip into Mayweather, and he did just that, but the Irish superstar was also still seething about his mic having been cut off while on-stage the day before in Los Angeles, and so he went dramatically off-script when made it clear he was holding the event's broadcaster Showtime personally responsible.
"While we're at it, f*ck Showtime too," McGregor yelled as he walked up to Espinoza, who was also seated on-stage"You little weasel. Look at you, you little f*cking weasel, I can see it in your eyes, you're a f*cking bitch. Cut my mic off? Cut the champ's mic off? Hell no. You f*cking weasel!"
This was completely unprecedented behavior, but with so much money riding on this fight McGregor was an unstoppable force at the time and he knew it, as did Espinoza, who had to silently endure humiliating taunts from 'The Notorious' during the remainder of the tour.
No. 4: The Paulie Malignaggi Sparring Knockdown
When former boxing champion Paulie Malignaggi agreed to spar with Conor McGregor ahead of his boxing debut against Floyd Mayweather it attracted a huge amount of attention as the two had bad blood dating back several months when Malignaggi boasted that he could beat him, "with one hand tied behind my back."
As such, McGregor's subsequent request to spar Malignaggi was anything but friendly, telling reporters, "we're gonna have a knock and he's gonna have to answer to what he's been saying."
Normally high-level sparring sessions remain private, but not long after their first encounter, McGregor posted a photo in the ring with his hands behind his back taunting a tired looking Malignaggi, and another landing a punch flush to his face.
Malignaggi was taken aback by the leak, though he too had publicly been speaking out to the media about the session.
Another sparring match was arranged a week later, and this time the likes of Dana White and Lorenzo Fertitta were ringside in the gym to watch this fascinating spectacle unfold.
Malignaggi hinted afterward that he'd mostly got the better of McGregor this time, but that was contradicted by a photo of the boxer being floored by McGregor being leaked, followed by short video clips showing him beating up on the boxing star.
That was the final straw for Malignaggi, who stormed out on McGregor's camp and has since repeatedly denied that the UFC champ got the better of him, despite several others in attendance that night claiming otherwise.
No. 3: Bottle-Throwing Brawl With Diaz Brothers
The UFC 202 rematch between Conor McGregor and Nate Diaz was always going to produce fireworks, and they started before they'd even had a chance to step into the cage together.
At the pre-fight press conference in Las Vegas, tensions were running high and halfway through, Diaz decided he'd had enough and began walking towards the exit via an upstairs balcony, with his entourage following close behind.
The two fighters hurled insults at each other, with McGregor telling his rival to "get the f*ck out of here" and uttering his infamous catchphrase, "you'll do nothing!'"
Diaz and his entourage, which included his brother Nick and several other fighters like Jake Shields and Gilbert Melendez didn't take too kindly to that and from their elevated position on the balcony began throwing bottles of water down at McGregor.
McGregor responded in kind by hurling bottles back up at them, then ignored a panicked-sounding Dana White's pleas to stop as he grabbed full cans of Monster Energy drink and lobbed them up at Diaz and his crew.
Both McGregor and Diaz were subsequently fined and sentenced to community service by USADA for their unruly behavior that day, while a security guard also attempted to sue 'The Notorious' after alleging he'd been struck by one of the cans.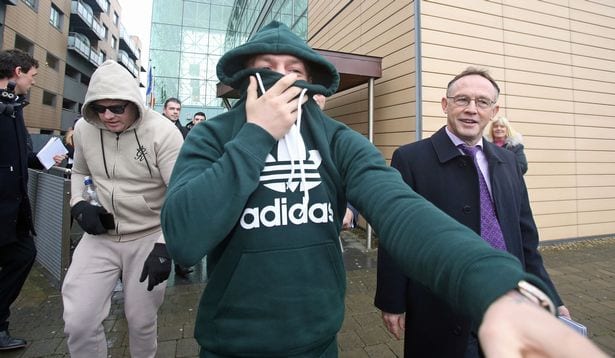 No. 2: Rumored Dublin Pub Punch-Up
McGregor may be hailed as a king in the city of Dublin, but there was a feeling he had got in over his head when he allegedly initiated a brawl at a pub in the city last month.
Reports from various media outlets claimed that, for reasons that remain unknown, McGregor walked into the Black Forge pub in the Crumlin area of the city and proceeded to punch a young man, then twice struck another older man in his 50's when he tried to intervene.
It soon emerged that the older man was a relative of one of the city's most notorious criminals, a convicted drug dealer by the name of Gary 'The Wig' Whelan, who was alleged to be a high-profile member of the infamous Kinahan gang.
As such there were serious concerns that McGregor was now a marked man, which prompted the fighter's own father to speak out in the media in an attempt to downplay the rumors.
Meanwhile, the UFC lightweight champ himself has remained defiant, when asked by reporters about the situation, boldly stating, "come and get me" as he was driven away from court by his security team after pleading guilty to a speeding charge late last month.
No. 1: Assaulting Officials At Bellator 187
McGregor's hell-raising antics only seem to have escalated in the latter stages of 2017, and never has that been more apparent than when the UFC star ran amok at Bellator 187 in Dublin last month.
'The Notorious' was at the event to cheer on his teammate Charlie Ward, and after he appeared to win via technical knockout, McGregor jumped into the cage to celebrate with him.
However, at that stage the referee Marc Goddard hadn't even called an end to the bout yet and so he ordered McGregor out, at which point 'The Notorious' angrily shoved the official and then berated him.
The still agitated McGregor was corralled back out of the cage, but soon after jumped up onto the cage again, at which point a Bellator official Mike Johnson tried to intervene, leading to McGregor slapping him in the face.
McGregor would later publicly apologize in a social media statement, writing that, "I've always learned from my mistakes and this will be no different."
Dana White has since claimed that negotiations to have McGregor fight at the end-of-year UFC 219 event were shelved due to the incident, while it remains to be seen if there will be any further repercussions from the governing bodies amid calls for him to be banned.