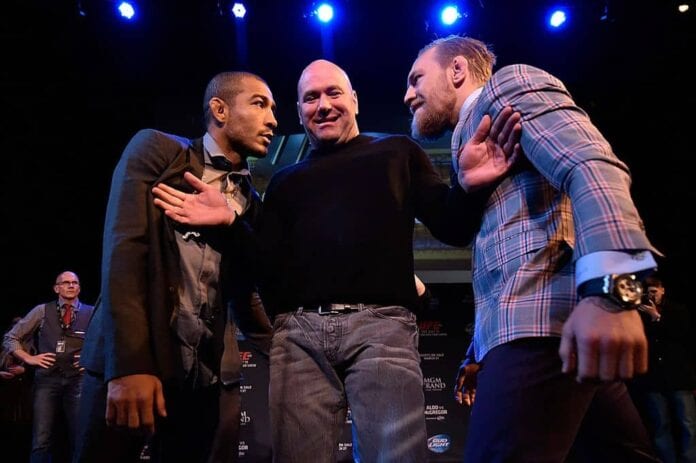 Conor McGregor's abusive tirade at the UFC 'GO BIG' media launch was both entertaining and close to the bone for those watching, as he put the featherweight and lightweight division on blast. At one point UFC president Dana White interrupted the interim featherweight champion, and much speculation has been made as to what was said between the two. Perhaps 'The Notorious' was being told to cool off a little?
Not a chance, as White tells media at the UFC 191 post-fight press conference what was really said to McGregor during his barrage of insults:
'I told him his zipper was down, and that was it. Everybody wants to think I was telling him to calm down or something, but his zipper was down. Everybody wants to read in to it and they always think we are having some crazy conversation up there. He was jumping up and down and talking sh*t to everyone while his zipper was down. That's Conor, he was on fire yesterday, it wasn't shocking, that's just who he is.'
It's now common knowledge that if you put a microphone in front of Conor McGregor he's going to put it to good use. Chad Mendes, Jose Aldo, Donald Cerrone and Rafael dos Anjos were the main subjects of McGregor's rants, and who's to say whether it was good or bad for the sport?
'The Notorious' one provided a highlight reel of epic quotes and hilarious jives within the space of a 60-minute presser, giving the UFC endless promo cuts for a bunch of potential fights for the Irish star.
It's only made more funny by the revelation that he did so with his nether regions partly exposed.