Former UFC champion, Conor McGregor responds to Matt Brown's call out in a now deleted Tweet.
This past weekend, Brown scored a first round knockout over Court McGee which marked his thirteenth in the UFC – tying Derrick Lewis for the all-time KO record in the promotion. Brown earned his first knockout way back in 2008 against Matt Arroyo, kickstarting his legendary UFC career.
Not long after achieving this feat, McGregor would chime in via social media and rather than congratulating him, stated that he would own this record.
In response, Brown would do what most would do in this situation and call for a fight with the Irishman.
"It's crazy it kind of blew up, I fight him for it. Wouldn't you? It's like, 'F*** yeah, bro. You want the record? Come and get it, b****.'" Brown said talking to MMAFighting.
Conor McGregor responds to Matt Brown
Never one to bite his tongue, would of course respond to Brown's call out, labelling it 'woeful' in a now deleted Tweet.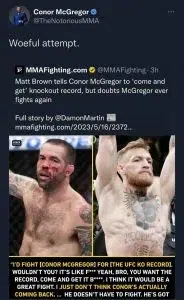 McGregor is set to return later this year to face former title challenger, Michael Chandler after the pair coached opposite one another on The Ultimate Fighter season 30. However, no date has been set and McGregor's current situation with USADA leaves a lot of questions.
As for Brown, the 42-year-old is expected to continue his career, hoping to get that fourteenth KO and secure that number one spot in the UFC records book.
Are you excited for a Conor McGregor return?