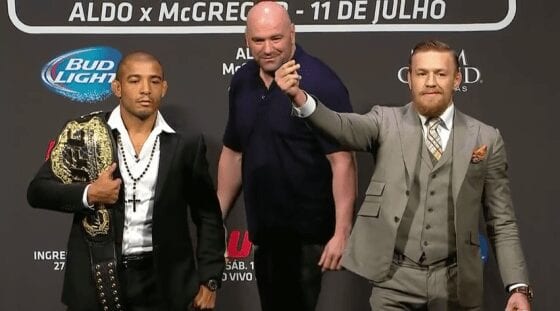 The mixed martial arts (MMA) world may be deeply entrenched in all of the madness surrounding Jon Jones being stripped of the light heavyweight title and removed from the rankings after he turned himself in on felony charges for his alleged involvement in a New Mexico hit-and-run accident last Sunday, but one of the biggest fights in boxing history will still go down this Saturday (May 2, 2015) when Manny Pacquiao meets Floyd Mayweather in Las Vegas, Nevada.
It's a bout that has been talked about and negotiated back-and-forth for years now, with the two sides always unable to reach a mutual agreement until now. There' has also been a lot of talk that the bout should have been booked a few years back to make it the most relevant, and one prominent UFC fighter seems to agree with that stance.
Speaking up during a recent interview with Bleacher Report, brash Irish star Conor McGregor gave his take on the blockbuster bout:
'Notorious' said he would have liked to see the bout happen sooner, because he thinks that Pacquiao has stagnated and declined in skill while Mayweather has continued to evolve:
"I would have loved to have seen it a couple of years ago – it's still a phenomenal contest, but I think Mayweather is the one that has evolved where as Pacquiao has more stagnated and declined – so I feel Mayweather will pick him apart."
According to McGregor, Pacquiao has taken more damage than Mayweather, including his brutal knockout loss to Juan Manuel Marquez in 2012. Due to that fact, McGregor believes Mayweather is younger in 'career' years' and will therefore hold the advantage:
"Mayweather has been through less wars, Manny has been knocked down multiple times – they're a similar age but Manny has aged career wise a lot more than Floyd, So Floyd will be the younger fighter going in. Floyd is the younger fighter in terms of the fights and damage they have had and I feel he will prevail."
McGregor closed by giving his prediction for the historic bout, stating that he's envisioned a late Mayweather stoppage in his mind:
"I feel a late stoppage, I think Floyd will stop him late."
McGregor will have his own chance to etch his name into the record books when he meets longtime featherweight champion (and new No. 1 pound-for-pound fighter) Jose Aldo in the main event of July 11's UFC 189.
Their fight is being pegged as the biggest MMA match of 2015 and quite possibly of all-time, but it's clear that it won't hold a candle to the absolutely massive spectacle from Vegas this weekend.
Who is your pick to win boxing's biggest bout?