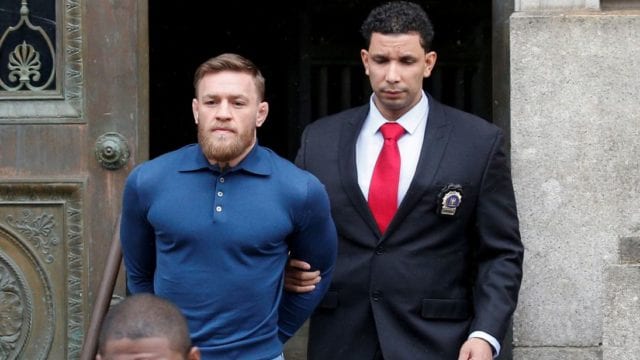 Former UFC champ Conor McGregor is due in court tomorrow (Thurs., June 14, 2018) for his over-the-top escapade in Brooklyn, New York, on April 5 where he threw a dolly through a bus containing rival and current UFC champion Khabib Nurmagomedov.
'The Notorious' incited the most overblown scene in mixed martial arts (MMA) in 2018 thus far, injuring lightweight Michael Chiesa and flyweight Ray Borg in the basement of the Barclays Center with a number of goons and ultimately causing three fights to be stricken from April 7's UFC 223 pay-per-view card. For the attack, which was conveniently chronicled by the UFC's "Embedded" v-log series, McGregor turned himself in on multiple charges from New York police, was held overnight, arraigned, and released on bond.
Since then, he's been on his best behavior in preparation for his court date. Although he's facing two felony charges of criminal mischief and multiple assault-based misdemeanors, most legal experts who have commented on the case believe that the superstar will avoid jail time, especially with this his first offense on U.S. soil.
Some further specifics on his court appearance arose from the LA Times, to whom New York attorney Dmitriy Shakhnevich detailed that McGregor could possibly enter a plea deal for his charges, but if he does not, he will likely face an indictment allowing the case to potentially proceed to a trial:
"Basically on Thursday, Conor is appearing in court to see if he was indicted before the district attorney can proceed to trial. Everything will go down in court Thursday.

"If I were a betting man, I'd say that unless some plea will be worked out Thursday, an indictment will probably be filed by the court."
He's not off the hook just yet, however, as the report claimed that if McGregor were indeed to reach a plea deal with the District Attorney tomorrow – which would most likely involve probation a fine, and/or community service – 'The Notorious' would likely "be informed a secret grand jury has been empaneled and has established reasonable cause to justify further hearings."
Disclosure of evidence, more court appearances, and even a trial could come after that, although that's believed to be unlikely due to the fact it is his first criminal offense in America and McGregor will likely be focused on resuming his fighting career rather than drawing the case out in court. The fact he was caught on camera committing the act would also make a plea deal more likely.
There's no confirmation of when he will return, but McGregor reportedly does have a meeting set with UFC President Dana White later this week. White did not reveal his plans for McGregor when probed, saying only that, "I have no clue. We know nothing about" the court date.
A spokesperson for McGregor's attorney issued a vague statement on his court appearance tomorrow:
"We will be in court tomorrow and we do not have more information."
So the MMA universe will know more about McGregor's fighting future – or at least his freedom – tomorrow, but this would all appear to be a set of smoke and mirrors at this point with a plea deal likely to occur.
What's more important, at least to fight fans, is when McGregor will return to the UFC octagon if he ever does. It's clear that the UFC needs him now more than they ever have, with pay-per-view buys for cards as stacked as last Saturday night's UFC 225 reportedly bringing in historically low buyrates.
If you enjoyed this story, please share it on social media!