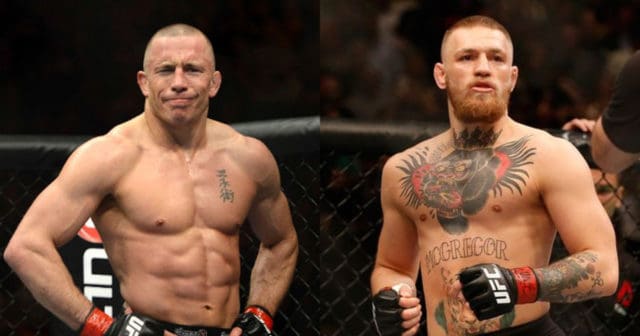 Coach believes Georges St-Pierre would do much worse to Conor McGregor than what Khabib Nurmagomedov did.
Khabib was able to successfully retain his lightweight title against the former champ in the headliner of the UFC 229 pay-per-view event. The coach of the former middleweight and welterweight champion, Firas Zahabi, recently went on record stating he thinks things would end up even worse for McGregor should he fight GSP.
"I think GSP would do much of the same, even more than what Khabib did," Zahabi said on a recent live chat (H/T to Bloody Elbow). "GSP has an explosive shot from the outside, and he understands — he has a better range. He has a longer range for his takedowns, a longer range for his striking."
Zahabi brought up how there are a lot of similarities between Khabib and GSP but one thing that GSP is better at is long range wrestling.
"His submissions and ground and pound and jiujitsu, it's very similar to Khabib. They're very strong wrestlers, but GSP can do it all from a longer range, further range," he explained."
The famed coach stated that the former champ is also very familiar with what McGregor does the best. Thus, that's not a concern.
"And GSP is very familiar with what McGregor does, that karate, taekwondo, kickboxing hybrid style. That's stuff we grew up with, so we know that very very well," he said. "We do a lot of that. We're very familiar with those teeps, those counter lefts, very familiar with those kind of stuff."
Finally, when it comes to a potential fight between St-Pierre and Khabib, Zahabi believes that it would be a massive fight due to the increase of popularity of Khabib.
"Khabib (vs GSP) would be a mega fight. It would, definitely," he said. "If they did it for 155, or I'm hearing now a 165 lb title, that would make sense — or 170. Whatever it is, just those two names, would probably beat McGregor vs Khabib. Because of this win, Khabib now is going to be more famous than ever. Khabib is going to be the biggest name in the lightweight division for a while."