Former interim UFC heavyweight champion Ciryl Gane is no stranger to making headlines, and he continues to do so with his recent impression of the Diaz brothers.
Both Nick and Nate Diaz have very similar mannerisms to one another, and Gane was spot on with his impression of them:
His posture and stance is perfect, the way he's puffing out his lips, the way he's posing for a staredown and the way he's holding his fists, the double middle fingers, the steps he takes as he's walking away, the fist pound in his opposite hand, Gane perfectly impersonated them.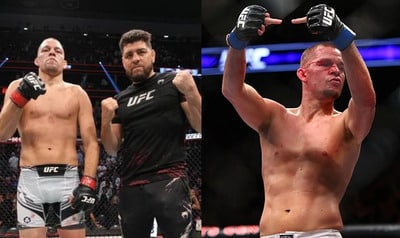 Ciryl Gane is looking to return to the octagon in March, and is currently targeting a showdown with former UFC light-heavyweight champion Jon Jones.
The UFC has been trying to book Jones against current heavyweight champion Francis Ngannou, and has been attempting to book that fight for nearly a year. Jones has been teasing a move to heavyweight since 2013, including ever since he vacated the light-heavyweight title in February of 2020 following his controversial win over Dominick Reyes.
Many fans are skeptical of whether or not Jones will even return, not to mention, Ngannou is technically a free agent right now that hasn't been happy with his contract since winning the UFC belt in March of 2021.
Gane was handily picking Ngannou apart in their champion versus champion clash back in January of 2021, winning the first two rounds of their encounter. However, a wrestling-heavy attack from Ngannou in rounds three, four, and five won him the fight.
Ngannou hasn't fought since then, while Gane has since KO'd top contender Tai Tuivasa in his UFC Paris homecoming; Tuivasa was on a five-fight knockout streak coming in.
Who would you like to see Ciryl Gane face next?
If you enjoyed this piece, feel free to share it on social media!