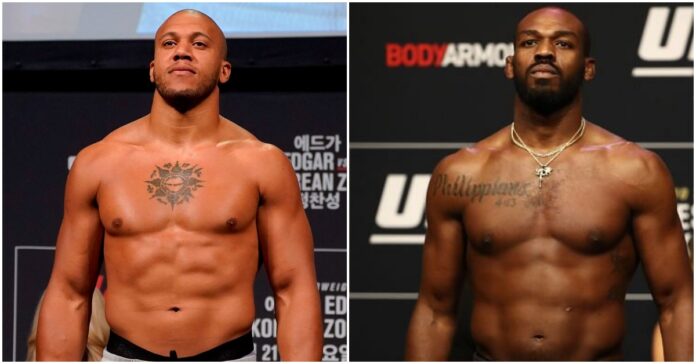 Ciryl Gane has one eye of a mega-money match-up with Jon Jones ahead of his heavyweight unification fight with his former teammate Francis Ngannou.
'Bon Gamin' will attempt to become the undisputed UFC heavyweight champion when he takes on Ngannou at UFC 270 on January 22.
The Frenchman is feeling very good about his chances against Ngannou.
"I just started the sport, so imagine, tomorrow I'm going to win against Francis Ngannou, I'm going to be in the top, the baddest man in this world after just three years in MMA," Gane told BT Sport. "That's really crazy. That's wonderful. And yes, after that, if I win, this is going to mean something for real for me. Because after every fight, maybe you can see, I'm not really enjoying it when I win. I don't know why exactly, I'm not excited about that. But if I win against Francis, I'm going to be happy. I'm going to be happy for real."
Gane expects 'The Predator' to approach the UFC 270 main event in an intelligent manner after their many rounds of sparring together.
"I think Francis did a lot these last years, and he probably improved and he's more intelligent and that's really great," Gane said. "He's really well-rounded now, and I think it's going to be more like that, because he knows I can manage the power. I think he knows I can manage the power. So maybe he should be a smart fighter (when we fight)….
"I think it's gonna be like Jairzinho (Rozenstruik). I'm going to manage the fight. I'm going to win after five rounds. Maybe before with a submission or something like that. Why not?."
Ciryl Gane Is Excited By The Prospect Of Facing Jon Jones
Despite being fully focused on the task at hand, Gane was happy to look ahead to a potentially lucrative fight with 'Bones' who has announced his intention to compete at heavyweight in 2022.
"He wants to go to this division, he wants to prove he can do it and he did a lot for that," Gane said. "Probably a fight against him would be really great for me because a lot of people compare the style, we're well-rounded, good fight I.Q. Maybe it's gonna be a great matchup, I think so, and probably it's gonna be great for my pocket (laughs)." (Transcribed by MMA Fighting)
How do you think Ciryl Gane vs. Jon Jones would play out?