UFC legends Chuck Liddell and Randy Couture have a lot in common. During their illustrious hall of fame careers, the two former champions collided in a trilogy of classic wars. Eventually 'The Iceman' would come out on top of the trilogy, but 'Captain America' left his mark too. At UFC 43, in their first bout, Couture handed Liddell his first loss in five years. Winning the interim light-heavyweight belt, the American wrestler set in motion their classic rivalry, and they'd again meet at UFC 52.
After coaching the first season of The Ultimate Fighter, Liddell and Couture fought in 2005. This time 'The Iceman' got revenge, knocking out his fellow fighting icon in one round. Just one year later they were at it again, and Liddell wrapped up their rivalry with a second round knockout at UFC 57. Heading up to heavyweight, Couture would win the title at the ripe old age of 43 years 255 days. That record of oldest fighter to ever win a title still stands.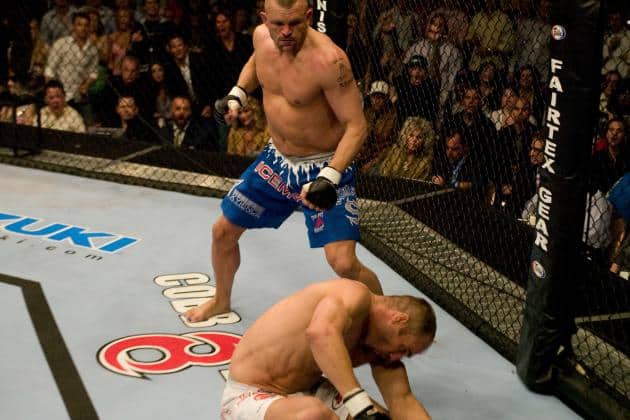 Post-UFC
Although a five-time champion and one-time tournament winner, Randy Couture's differences with the UFC became apparent after he retired. Having been through pay and contract disputes with the UFC in 2007, 'Captain America' was later banned from UFC events for his comments and association with Bellator MMA. Liddell, on the other hand, was given a job with the UFC post-retirement.
Last week we reported that 'The Iceman' had been axed by the new UFC owners. WME-IMG took over the UFC with a $4.2 billion price tag earlier this year, and Liddell along with fellow legend Matt Hughes were sent packing. It seems 'The Iceman' and his old rival Randy Couture are once again on the same path, only this time they won't have blood on their hands, rather pens to sign autographs. Both hall of famers will be appearing under the World Series of Fighting banner this coming New Years Eve at MSG, as per WSOF.com: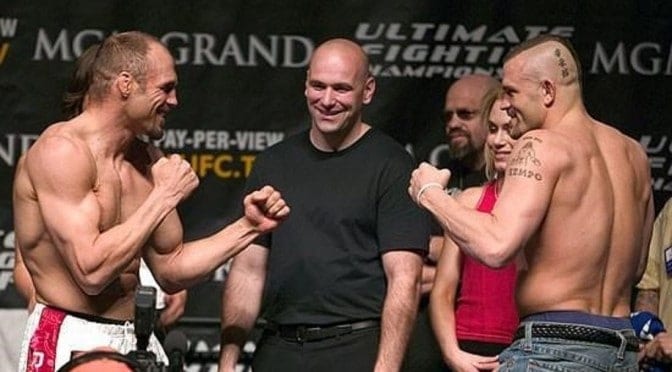 Together Again
World Series of Fighting fans attending the historic New Year's Eve event will get an extra treat. In addition to the eleven-bout card, highlighted by four championship fights, fans will have an opportunity to meet two legends of the sport. UFC Hall of Famers Chuck Liddell and Randy Couture will host a signing from 6:30 p.m. to 8:30 p.m. in the lobby of the Theatre at Madison Square Garden.

"We are excited to have two of the sport's most beloved and accomplished fighters on hand to meet our fans after WSOFNYC," said World Series of Fighting President Ray Sefo. "It will be a great honor to have them there following our historic event."
WSOFNYC will be headlined by lightweight champ Justin Gaethje vs. Joao Zeferino. Here's the full fight card for the Madison Square Garden WSOF extravaganza:
Main Card (NBC, 4 PM ET – 6 PM ET, Dec 31)
Lightweight Title Fight: Justin Gaethje (16-0) vs. Joao Zeferino (20-8)
Welterweight Title Fight: Jon Fitch (28-7) vs. Jake Shields (31-8)
Welterweight: Yushin "Thunder" Okami (32-10) vs. Paul Bradley (23-6)
Bantamweight Title Fight: Marlon Moraes (16-4) vs. Josenaldo Silva (25-4)
NBCSN Card (NBCSN, 3 PM ET – 4 PM ET, Dec. 31)
Middleweight Title Fight: David Branch (19-3) vs. Louis Taylor (13-1)
Heavyweight: Jared Rosholt (14-3) vs. Caio Alencar (9-1)
Prelim Card (WSOF.com, 1 PM ET – 3 PM ET, Dec. 31)
"Who's The Toughest?" Catchweight Fight: Shane Kruchten (11-4) vs. Jeremy Mahon (5-4)
Light Heavyweight: Smealinho "The Prince" Rama (9-2) vs. Jake "The Honey Bear" Heun (9-4)
Middleweight: Vagab Vagabov (20-0) vs. Bruno Santos (14-2)
Featherweight: Andre Harrison (14-0) vs. Bruce Boyington (14-9)
Final Fight: TBD