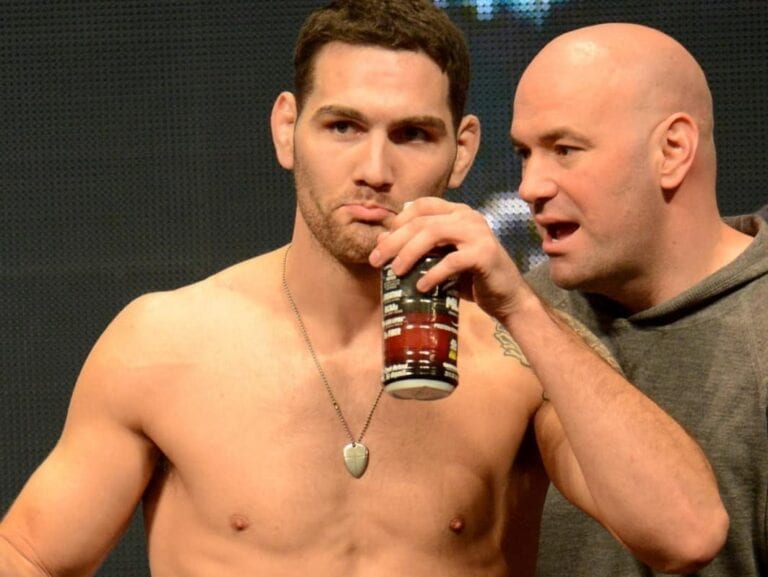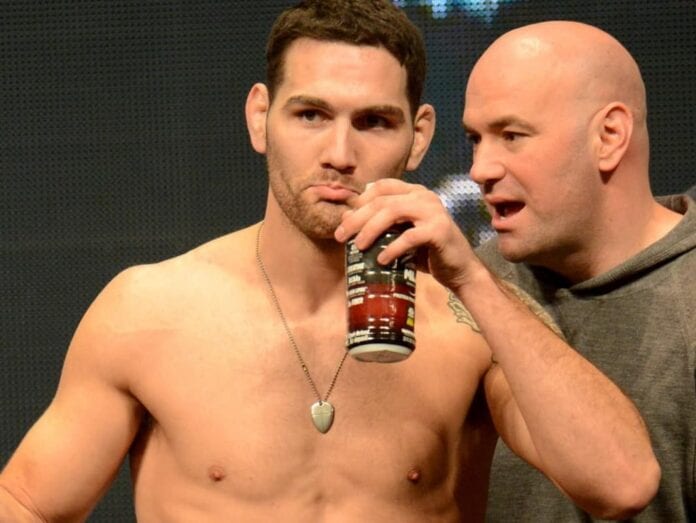 UFC middleweight champion Chris Weidman has had a tough road returning to the Octagon since his impressive unanimous decision win over Lyoto Machida at last July's UFC 175.
The former 'All American' signed on for a bout with Vitor Belfort at last December's UFC 181 when the Brazilian knockout artist was finally licensed by the Nevada State Athletic Commission (NSAC), but that bout fell apart when Weidman injured his hand, requiring minor surgery.
So the long-discussed bout was rescheduled once again for February's UFC 184 from Los Angeles, until Weidman once again pulled out of the bout with a rib injury, forcing the fight to be pushed back yet another time to its current co-main event slot at May 23's UFC 187.
This was all after Belfort failed a drug test and got forced from the original (which seems like ages ago now) match-up at UFC 173 last May. Weidman also required knee surgery to clear up some persisting issues dating back to his high school wrestling days, which delayed his match with replacement opponent Machida until UFC 175 in the first place.
It's been a never-ending maze of injuries and rescheduling, but now Weidman is ready to finally climb back into the Octagon and silence all of his critics. The champion recently met up with AXS TV's Inside MMA to discuss his greatly delayed grudge match with known performance-enhancing drug (PED) user Belfort:
"I'm going to have to fight Vitor Belfort regardless. Whether he's on something or not something, there's always a question mark in my mind. This is a guy who's been on stuff for a long time; pretty much a good chunk of his career. This is a guy who is at the doctor's every single week getting his blood work taken, he's said that publicly multiple times. It's like, 'Why are you doing that? Am I missing something?'
"That doesn't sound normal to me, it sounds like you're getting your blood checked because you want to make sure your levels are where they need to be when drug test time comes around. There's something inside of him that makes him feel like he can't do it on his own, and that's gonna, that's eventually what's gonna break him in the fight."
Questioned about Belfort's loud criticism of his frequent ailments, Weidman brushed it off. At the end of the day he plans on putting the dangerous middleweight division on notice that the king is back and ready to continue his reign:
"I think Vitor just says some stupid things sometimes. I don't think Vitor's a bad guy, I think he's made a lot of mistakes in his career, and he just got caught for them; and he's had to pay for them. Either way, that's not going to take anything off of me putting a beating on him. This is a statement fight for me.
""I want to let the rest of the division know; listen, I beat Anderson Silva twice, I out-struck Lyoto Machida, Vitor Belfort, I don't how I'm going to beat him, but it's going to be a dominating win. I'm not here to play games, I'm here to be on top for a long time and these guys better start training right, and, uh, stop taking steroids."