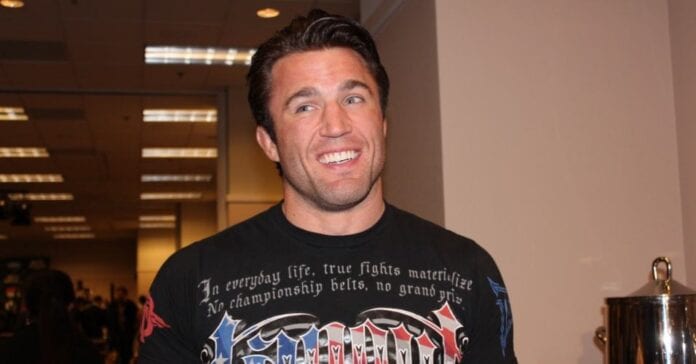 After retiring in June amidst a massive drug-induced fallout, former UFC title challenger Chael Sonnen certainly isn't staying out of the media. That's obviously no surprise, as the silver-tongued self-promoter has acquired his own podcast called "You're Welcome."
On this week's episode, Sonnen met up with WWE writer John Piermarini to talk about Brock Lesnar's rumored return to the UFC. Always thought to be a perfect fit for pro wrestling, Sonnen came out and said that Vince McMahon offered him a large contract that he ultimately turned down:
"Here's the nuts and bolts of it: I was offered $5 million by Vince McMahon. Now, I was still under contract with the UFC and I never took this to Dana. I handled it on my own. I told [WWE], 'No' and that was the end of that. I never told Dana White this story, but here's why I didn't tell him. I knew if I called Dana and said, 'I've got a $5 million offer from Vince McMahon,' Dana would have matched it."
Sonnen turned down the huge offer and never told White about it because he knew he would match it? Sounds like kind of a strange set of circumstances for a man who became a felon for a mere $60,000 money laundering charge from a dirty real estate deal in Oregon.
In any case, Sonnen went on to praise the UFC's, and specifically Dana White's negotiating tactics, which have come under extreme fire in recent months for their supposed lack of fighter pay. Sonnen believes that the promotion gets an incredibly bad rap in that regard:
"Dana would have come close and now all of a sudden I'm not a loyal employee," said Sonnen. "I'm not loyal to the UFC. I'm shopping them and I'm being loyal to myself. That's business. That's how that works and I don't think anyone would have had hard feelings but I didn't see myself that way."
That's something really interesting about Dana. If you want to play 'cutthroat business,' he will play, but if you want to relax and just let him take care of things you're going to be a lot better off.
If you go in there and try to negotiate, he'll negotiate and he'll do it like a regular business deal. If you play hardball a lot of times you'll win. A lot of times you will win. Dana likes to say, 'Yes.' However, if a show does exceptionally well you will be bound to what you went in there and fought him for."
Sonnen may have a different point of view compared to most other fighters, because if you promote your bouts with an all-out barrage of creative trash talk like Sonnen did, you are undoubtedly going to be treated well as long as your shtick works.
We're seeing history repeat itself now right now in the form of Irish featherweight Conor McGregor, who has taken Sonnen's place as the heir apparent to the UFC's trash talking throne. But McGregor can actually back it up, something that Sonnen was largely unable to do when faced with the best fighters in the world.
Still, "The American Gangster" made his money, and apparently it wasn't all that hard of a negotiating process.
That's probably why Sonnen never accepted the WWE's offer in the first place, because he knew he had a comfy spot waiting for him in the UFC as their lead yard barker.
It's a strategy that more up-and-coming fighters could learn from, as asking for "whoever the UFC gives me" is a certain path to mediocrity regardless of how good they can fight.
As for Sonnen, well, he may have ended up better in WWE. At least the drug tests probably wouldn't have been NSAC-regulated.