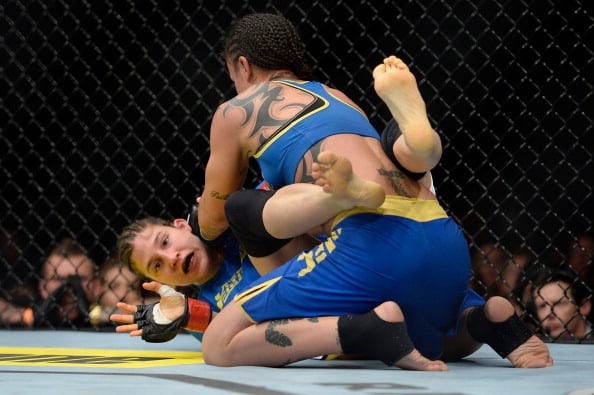 (Roxanne Modafferi, cruising to another bantamweight title-defense in the Ultimate Friendship Championship. / Photo via Getty)
By Matt Saccaro
In women's MMA, as in men's MMA, there are great matches and there are not-so-great matches. Claiming a men's fight is sub-optimal doesn't carry a negative stigma. Sure, some "YOU'RE NOT A FIGHTER, BRO" types will get upset, but generally it's OK to call out the poor aspects of a contest — whether it pertains to the booking or the in-cage action — when two males are fighting.
Making the same comments when women are in the cage changes things. We learned this the hard way on Twitter last night. You're branded a WMMA hater when you say that every women's fight on The Ultimate Fighter 18 Finale isn't Bonnar vs. Griffin I with estrogen.
We don't hate women's MMA. CagePotato is a proud sponsor of Invicta strawweight Rose Namajunas, and we'll be sponsoring Angela "Overkill" Hill for her XFC debut later this month. However, just because we love WMMA doesn't mean we're not going to criticize a fight just because it's between two women.
WMMA became popular because of the determination, dauntlessness, aggression, and outright ferocity of the contests throughout its history. Women often out-shined their XY-chromosomed counterparts whenever they were showcased on the MMA world stage. This is in large part due to the fact that, when WMMA was given airtime, we were generally seeing the best-of-the-best women fighting. As such, their performances were better — the kind that showed us what WMMA was all about and what made MMA fans fall in love with it.
There are still many female MMA fights that showcase these same traits — but not all. Some of the fights on last night's TUF 18 Finale were just average, and there were moments from those fights that were certainly worthy of a few snarky tweets. Roxanne Modafferi is not a good striker, plain and simple, and Jessica Rakoczy's terrible pro record can be partially explained by the massive holes in her ground game. As WMMA grows, it will fall prey to the same problems that men's MMA has faced recently. Some fighters won't be of the highest quality yet will still have a job in the world's greatest MMA organization, if only to fill space in a frantic event schedule. Some fights will simply be lackluster.
Pointing these things out, as well as the apparently-controversial fact that not every fight between two women demonstrates "what women's MMA is all about," doesn't mean you don't like WMMA, because if you didn't like it you wouldn't care enough to watch. Supporting gender equality in sports means you should be able to criticize female athletes for bad performances just as quickly as you would with men. And if you follow CagePotato on Twitter and get upset when we express a harsh (but honest) opinion…what the hell are you doing following us in the first place?