The long-awaited bare-knuckle bout between Muay Thai legends Buakaw vs Saenchai is back on according to BKFC Asia promoter Nick Chapman.
Fight fans were sent into a frenzy when Bare Knuckle Fighting Championship revealed that, not only had they signed both Buakaw and Saenchai, but that the two masters in the art of eight limbs would step inside the squared circle for a bare-knuckle brawl. Originally announced for March 18 in Thailand, the bout was eventually called off after some confusion arose regarding the rule set and what would be allowed by the Boxing Authorities of Thailand.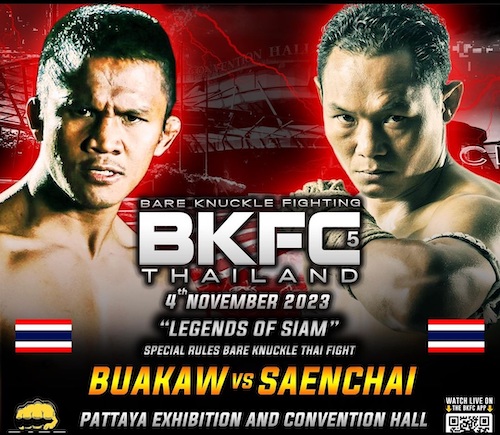 It was an unfortunate turn of events, but it now appears that the Buakaw vs Saenchai is back on and scheduled for this fall. According to the CEO of BKFC Asia, the fight will go down on November 4 at BKFC Asia 5. The event will emanate from the Royal Cliff Hotels Group in Pattaya, Thailand with tickets being made available starting on August 17.
The bout is being advertised as a special rules bare-knuckle Thai fight between the two combat sports icons.
Buakaw vs Saenchai Will Be a Battle of Two Thai Legends
Buakaw Banchamek and Saenchai are by far and away, two of the most accomplished Muay Thai practitioners in the history of the sport. The pair have more than 550 career wins combined and nearly 60 years worth of experience between the two.
Much of that comes from the side of Saenchai who began competing in Muay Thai in 1988 when he was just eight years old. During his legendary run, Saenchai has accumulated 317 victories and is a multi-time Lumpinee Stadium champion. He has also captured world titles with the WMC and WBC. Under the THAI FIGHT banner, Saenchai won the King's Cup three years in a row and went on an incredible 52-0 run.
Not to be outdone, Buakaw Banchamek has established himself as perhaps the greatest Muay Thai fighter in the history of the sport. With 240 wins, Buakaw is a two-time K-1 World MAX champion in addition to being a multi-time WMC titleholder. He also captured the WBC Muaythai Diamond World Championship in 2014.
In September, Buakaw made his BKFC debut, competing in a bare-knuckle bout against Erkan Varol at BKFC Thailand 3. Buakaw scored himself a first-round knockout and has since added another win to his illustrious record, defeating Rukiya Anpo at RIZIN 42 in May.
We can't wait til November when we can finally watch Buakaw vs Saenchai and see who will be the victor between these two Muay Thai legends.