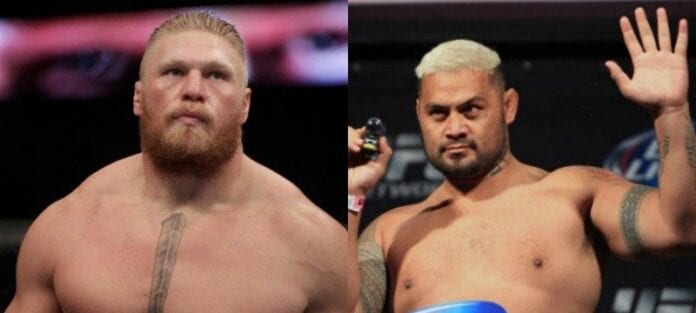 Brock Lesnar is fighting back against Mark Hunt's lawsuit against him, filing a motion to dismiss the case claiming it  "fails miserably, float[ing] on a sea of bombast" and is not "anchored in a bed of facts".
Hunt alleges that Lesnar's two failed drug tests for their UFC 200 heavyweight bout is tantamount to fraud and conspiracy.
On Thursday, Lesnar's lawyers blasted the lawsuit and asked that the suit be dismissed without allowing Hunt's side the chance to file again.
 "Plaintiff's complaint is so devoid of any facts to support his RICO and fraud claims that it would be almost impossible for Mr. Lesnar to respond," read the suit, which was filed in Nevada District Court by attorneys Peter S. Christansen, Kendelee Works and Howard Jacobs on behalf of Lesnar.
Lesnar defeated Hunt by unanimous decision at UFC 200 back in July, but the former UFC heavyweight champ tested positive twice for steroids, leading to the victory being overturned.
Hunt's attorneys claim that Lesnar knowingly took steroids to cheat "The Super Samoan" out of a potential victory and winning bonus.
"He was in on this," attorney Christina Denning told MMAjunkie in a previous interview. "He's coming from the WWE – he's on steroids – and he can't sign up officially with the UFC in March, because he's going to be dumped into this program for doping and he's going to fail."
Hunt has been on a warpath against Lesnar as well as the UFC ever since the former champ's failed tests came to light, even going as far as to demand Lesnar's entire $2.5 million purse.
However, Lesnar and his lawyers contend that Hunt cannot prove lost wages and damages due to his failed drugs screenings.

"Even if Plaintiff had won the fight against Defendant Lesnar, plaintiff has not and cannot honestly allege that significant economic opportunities would have presented themselves, beyond the opportunity that the UFC has already granted to Plaintiff even in spite of the results at UFC 200," read Lesnar's motion.
Hunt's motions are expected to be heard in court on May 15.