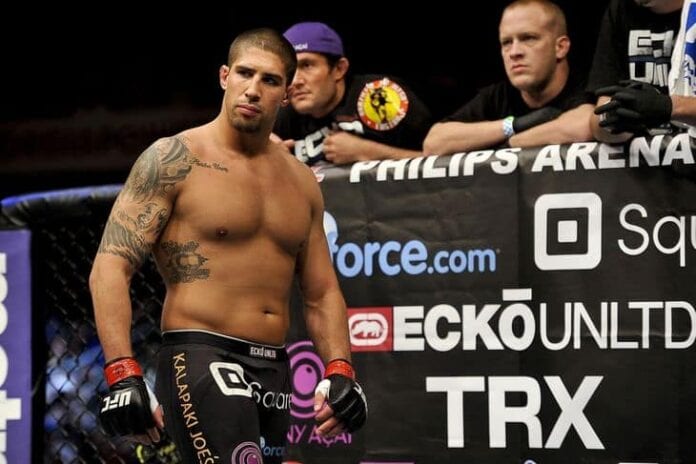 It's been a pretty rough week for UFC heavyweight Brendan Schaub, as he is coming off a tough TKO loss to Travis Browne at UFC 181. The former pro football player looked out of sorts and over matched against "Hapa", and was little competition as he succumbed to strikes in the opening round.
As if that wasn't a tough enough pill to swallow, "Big Brown" went on to the Joe Rogan podcast, where he is a regular co-host, and had a heart-to-heart with the UFC color commentator. Some highlights of the now notorious chat:
Joe Rogan
"There's a bridge between you and the very best guys in the world, and I don't know if you can cross that bridge," Rogan said. "That's the reality of life. If you look at your performances inside the octagon – not what you think you're capable of or you know you're capable of at your best – if you have to judge it by just your performances inside the octagon. You've had good fights, you're a very good fighter. That's not what the issue is.
"The issue is, can you become a champion? If you can't become a champion, are you comfortable with getting knocked out three or four more times over the next five or six years? That is a possibility. It might not happen. You might be ok, but it also might happen. It might happen two fights in a row."
"You're a sharp dude, and I know you know if you keep going, (brain damage) is coming, there's no way around that," 
Brendan Schaub
"Joe, I think it's easy for you to sit there with whatever, $12 million in the bank and say, 'Oh, you need to stop doing this,'" Schaub said. "It's easier (to say that). When you're set and you don't come from that background and go home to your wife and kids and six million-dollar mansion and say, 'Stop doing this and do podcasts for the next 40 years.'"
"I'm 100 percent going to fight again," Schaub said. "Two years, four more fights and maybe a cut down to 205. I walk around at 250 with like planning 250. Metamoris I went down to 225. I won't make any decisions until January."
Cut a long story short-Rogan doesn't want his good friend to take any more punishment, as it's obvious he isn't championship material. Schaub clearly disagrees with Rogan's sentiments. Now, talking to MMAFighting.com, Brendan Schaub explains how he felt during the emotional exchange on the podcast:
"We're sitting down and, I mean, he literally just thrashes me to the fullest extent," Schaub said. "You heard me going 'huh, huh,' because if I would have spoke you would have heard me crying. I was trying not to cry. My phone blew up. I had 40-45 text messages from friends, family. People going, 'Walk out right now. Don't take this right now.
"I don't agree with Rogan. Some of his points I do agree with. There's some stuff when you lay it out and look at numbers I can see why he thinks I should move on [from fighting]. The truth is I make about as much doing this show as I do in the UFC. That's the truth, it's about identical."
"Do I think I can compete at a high level and still kind of do [the podcast]? 100 percent. 100 percent. I disagree with him there. It's a fine line between hanging it up and moving on and continuing to fight. Have I had concussions? 100 percent. It's documented. You've seen me in the UFC. I played football for 20 years. I'd rather live my life for 50 years being a warrior than live to 100 being a freaking gazelle. Being a peasant. 100 years as a peasant? Nah, I'll take the 50 glories."
It may be an extremely tough pill to swallow, but would Brendan Schaub do well to listen to his friend here? Obviously making a living is in extremely important aspect of the fight game, but does the sacrifice mirror the benefits gained? All forms of combat sports come with the inherent dangers that often separate the wheat from the chaff, so is "Big Brown" the latter?