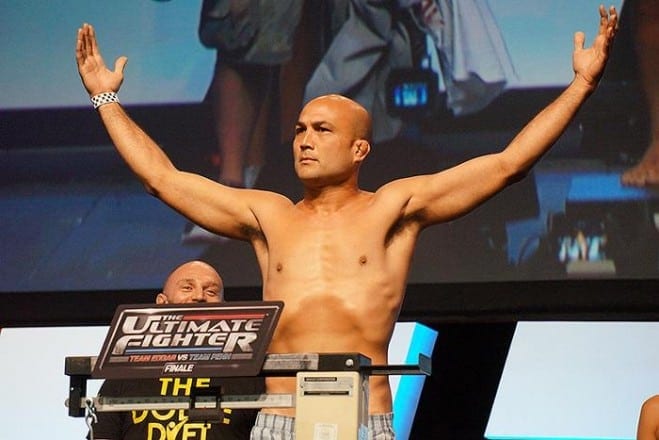 Legendary former UFC lightweight and welterweight BJ Penn has been retired from active competition ever since his one-sided loss to Frankie Edgar at July 2014's The Ultimate Fighter (TUF) 19 Finale, his third defeat to 'The Answer.'
Much of Penn's puzzling gameplan and the horrific outcome that resulted was blamed on famed nutritionist Mike Dolce, whom 'The Prodigy' paid precious little attention to during a taxing weight cut, his first-ever down to 145 pounds.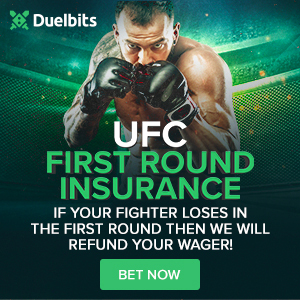 Ultimately it was his unfortunately last-ever fight as well, but if you listen to Penn on this evening's UFC Tonight, it actually seems like he's more than itching to get back in the cage. Apparently 'The Prodigy' is coming for anyone closely associated with Dolce and wants to beat his client, No. 10-ranked Nik Lentz, and then run out back to beat Dolce up afterwards:
Penn: I'm sick and tired of hearing about Mike Dolce. I'll take out your boy Nik Lentz in 1 RD and then find you in the back and smash you.

— UFC Tonight (@UFCTonight) October 1, 2015
Ouch. Looks like Penn is harboring quite the resentment towards Dolce, but that's not surprising given the unceremonious manner in which he exited a sport where he is considered one of the finest athletes to ever compete in. Known for perhaps taking his training a bit too lackadaisically, Penn suggested he wants one more grudge match at featherweight despite not having been in the gym for almost two years:
BJ Penn is going OFF right now! Penn says he wants to come back at 145lbs for a grudge match even though he hasn't been in a gym in 2 years. — UFC Tonight (@UFCTonight) October 1, 2015
There's not much sense to booking the aging, past-his-prime Penn against a middling younger fighter like Lentz save for the grudge match factor due to his association with Dolce.
But Penn is a legend, and even though he's far from the destroyer he was, many nostalgic fans would be more than happy to see him step into the octagon one more time. Would you?