Think you've seen it all? Think again, watch as UFC title contender Claudia Gadelha batters one man and puts another to SLEEP in the weirdest MMA fights of all time…
UFC women's strawweight contender Claudia Gadelha has made her name in the mixed martial arts world with some very impressive victories. Notable names on Gadelha's MMA record before she joined the UFC include Valerie Laetourneau, Herica Tiburcio and Ayaka Hamasaki to name a few, and she was pegged for Invicta FC title glory before the UFC snapped her up. Since joining the promotion in 2014, she's put on three incredible displays inside the octagon.
A debut victory over Tina Lahdemaki saw 'Cludinha' thrust in to the title mix, and she displayed her best work to date in a five round war with Joanna Jedrzejczyk in late 2014. She lost on the cards that night, but many believed the highly debated decision should have gone the other way. After a dominant performance in her next bout with Jessica Aguilar, Gadelha was once again lined up with Joanna champion, currently she has just finished filming the latest season of The Ultimate Fighter opposite 'JJ.'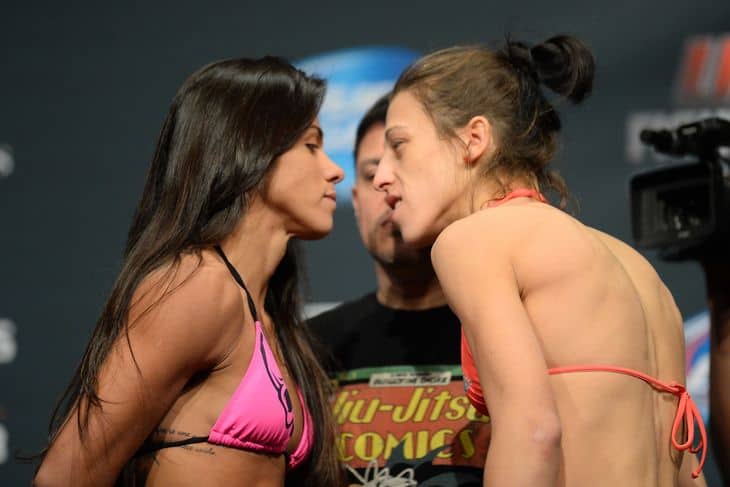 The fierce rivalry with Jedrzejczyk has apparently led to a crazy street fight with the current strawweight champion during the latest TUF season, making it must see stuff for most fans of this feud. The additional time in the limelight for the fiery Brazilian has also led to the more diligent fans scouring the web for old fights featuring Claudia Gadelha. One such fight that this writer sourced on the Reddit MMA forums, h/t user Arvivald, and it is one of the craziest MMA related videos we've seen for a while.
The first video shows Gadelha choking a man out cold after he taps, talk about brutal!

Watch Claudia Gadelha batter an apparently untrained man, on what appears to be some sort of MMA related gameshow, with a skinny man (?) painted head to toe in silver spray as the ring girl. WTF doesn't even cover it: