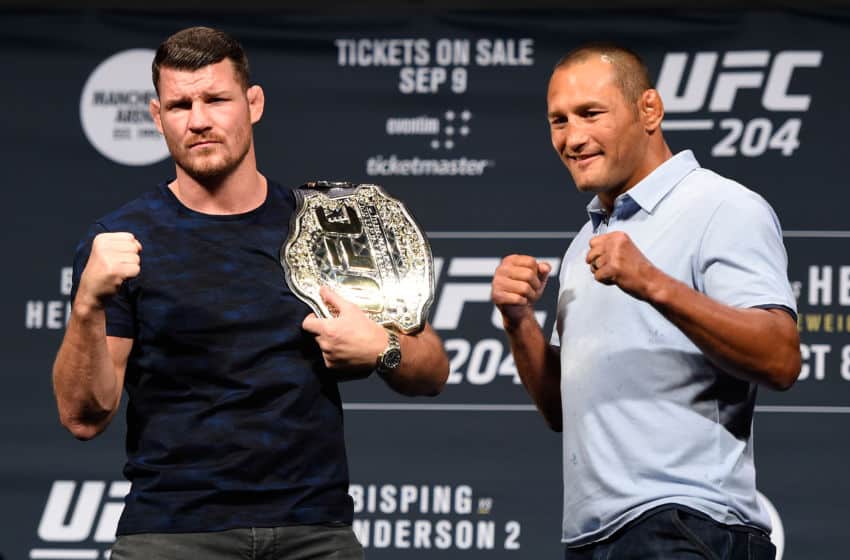 Earlier today the UFC 204 weigh-ins went down and the two men involved in the main event for tomorrow's card for the UFC 185-pound championship came face-to-face for the final time before they do battle.
Michael Bisping and Dan Henderson locked eyes after hitting the scale in front of 'The Count's' native UK crowd, and the middleweight king (courtesy of MMA Fighting) once again took the opportunity to trash-talk his opponent one last time before hitting the Octagon:
"What's up Manchester! Who wants to see Hendo get knocked the eff out?" he shouted. "Guys this is the pinnacle of my career, it doesn't get any better than this. I am the champion defending it in Manchester."
Bisping would then join FS1 afterwards to discuss his brash comments, stating that he never plans out what he is going to say on the microphone and that it is all natural free-style smack-talking: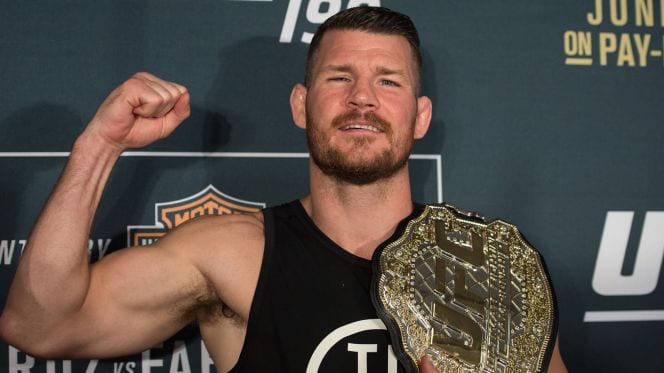 "I don't know, I was just letting him know…to be honest I never know what I say and I never plan what I'm going to say," he said. "I think it was some profanity laced threats. Just letting him know I'm coming for him. It's all fun and games, I've got nothing against Dan Henderson.
But make no mistake, when that fight starts, when that bell sounds, I'm coming for him. I'm looking to take his head off — 2009, UFC 100, I'm getting redemption for that. I'm putting him down, I'm putting him out. Dan Henderson is going out to rest, out to pasture, he's off to the knackers' yard. Dan Henderson is no more."
Before he throws down with Henderson tomorrow night (October 8, 2016) Bisping plans on feasting like a king before putting on what he expects to be a royal performance against 'Hendo', and put a stop to those who claim that much like Bisping at UFC 199, it is Henderson's 'destiny' to walk away champion tomorrow night:
"I'm going to go out to a delicious restaurant," he said. "I'm going to eat like a king and then tomorrow, I'm going to perform like a king that I am — the middleweight champion of the world. That belt is staying here in Manchester. Dan Henderson is deluded. Some people have been saying, 'Oh, you believe in destiny?' because of my last fight. Well, this is Dan Henderson's destiny. No it isn't, get over it.
"The belt is staying here in Manchester. Make no mistake, put your money on it, round 3 Dan Henderson falls over and doesn't get back up."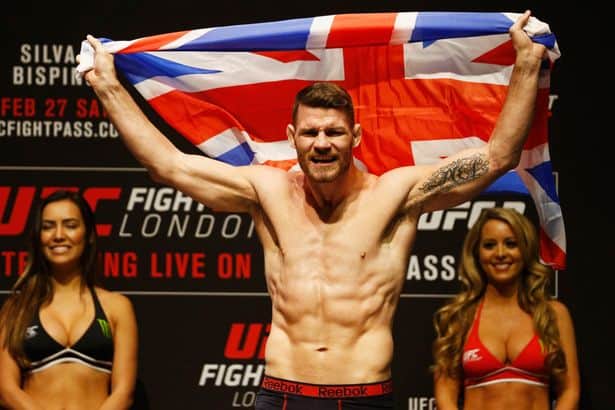 Bisping and Henderson will meet in the main event of UFC 204 for the middleweight title live on pay-per-view (PPV), from the Manchester Arena in Manchester, England tomorrow night (October 8, 2016).