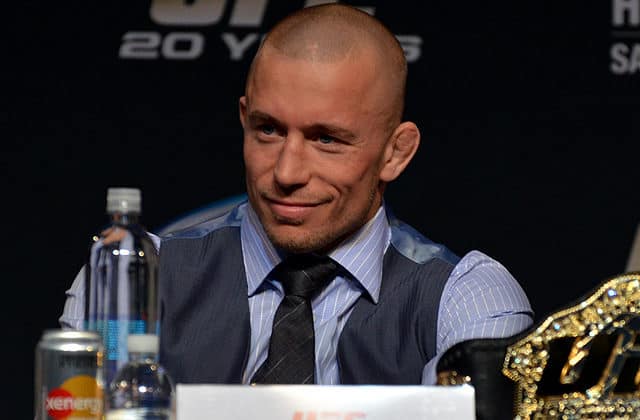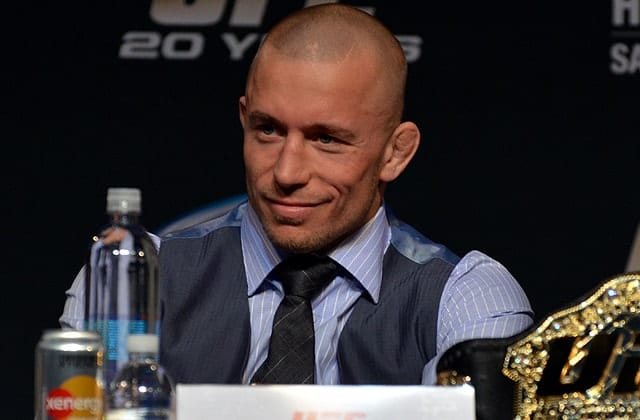 Georges St-Pierre and Khabib Nurmagomedov are two of the greatest champions the sport has ever seen. But who would win if they had fought? Ben Askren thinks it's the longtime former welterweight champ.
Askren thinks "GSP" would ultimately get his hand raised, but it wouldn't be easy. Speaking with former title challenger turned top-notch analyst Dan Hardy, Askren detailed what he believed would take place had the two dynamos fought.
"How's his [St-Pierre] wrestling for wrestling? I don't know," Askren said to The Body Lock (via Bloody Elbow). "How's his wrestling for MMA? Really, really freaking good," Askren told Dan Hardy in an interview last month. "I think he has great timing. Like his timing on the punches into takedowns, you can argue that it's the best ever."
"I would argue that Khabib does a better job staying on top and certain other aspects of wrestling. But as far someone who uses punches into takedowns, there's not a lot of people who are better than him at that, if any."
Leaning Towards St-Pierre
While "Funky" thinks St-Pierre would get it done, he still wonders how "Rush" would've responded to a high-level wrestler like Khabib.
"I would lean towards GSP for sure. The one thing that's hard, if you watch GSP, he definitely gets tired and when he gets tired, he relies more on his ability to go get the takedown and hold them down and then they can't do anything against him."
"We've never seen him against someone who — you can say Josh Koscheck was a high-level wrestler — but Josh Koscheck didn't always use his wrestling in MMA. He wasn't like a Khabib or me who someone that uses a lot of wrestling. So we never got to see GSP versus that super high-level wrestler so it's always curious to me how it would have turned out."
Don't hold your breath in anticipation for this fight. "GSP" has officially retired from MMA and "The Eagle" will presumably defend his title against the winner of this weekend's interim lightweight title fight between Max Holloway and Dustin Poirier.
Askren's next fight will be at UFC 239 when he meets Jorge Masvidal in a featured main-card bout.
If you enjoyed this story, please share it on social media!