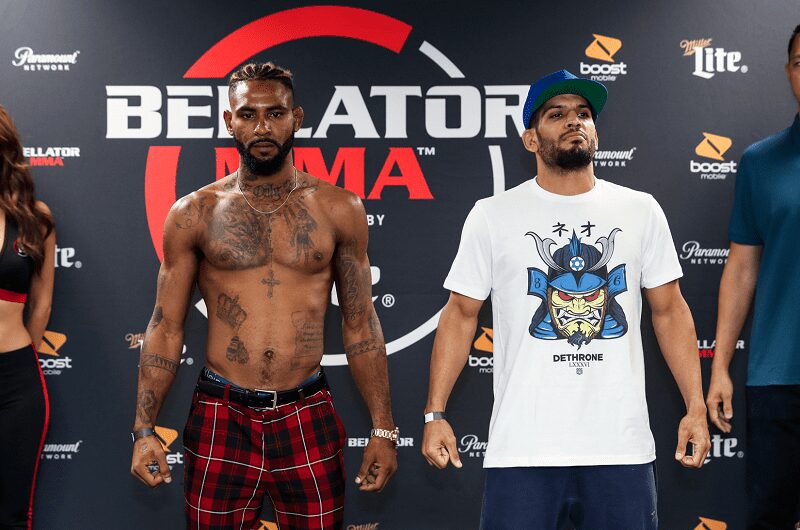 SIOUX FALLS, S.D. – Bellator has touched town in the Great Plains and brought the heat.
The ceremonial weigh-ins for Bellator 204 took place earlier this morning (Aug 16, 2018) and LowkickMMA was on location.
The fighters' hotel in Sioux Falls, S.D., served as the backdrop for the Bellator 204 early weigh-ins; the ceremonial weigh-ins immediately followed.
Bellator 204 goes down Friday (Aug 17, 2018) night at the Sanford Pentagon arena in Sioux Falls live and free on the Paramount Network.
All but two fighters made weight for the 13-fight card. Cris Lencioni (formerly Cris Williams) weighed in at 148.4 pounds for his scheduled featherweight bout with Tywan Claxton. Willie Whitehead tipped the scales at a massive 200.2 pounds for his middleweight fight with Romero Cotton, 14 pounds over the 186-pound middleweight non-title fight limit.
Here are the full Bellator 204 weigh-in results:

Main Card:
Darrion Caldwell (145.2) vs. Noad Lahat (146)
Logan Storley (170.2) vs. A.J. Matthews (169)
Ricky Bandejas (135.4) vs. James Gallagher (135.4)
Tyan Claxton (145.8) vs. Cris Lencioni (148.4)
Preliminary Card:
Omar Morales (155.8) vs. Troy Nawrocki (155.4)
Demarques Jackson (155.6) vs. Bryce Logan (155.6)
Jason Jackson (171) vs. Jordon Larson (170.2)
Corey Davis (170.2) vs. David Michaud (170.4)
Romero Cotton (185.4) vs. Willie Whitehead (200.2)
Seth Bass (170.8) vs. Tyler Ray (170.4)
Micah Peatrowsky (154.2) vs. Keith Phathaem (155.8)
Lloyd McKinney (125.4) Robiel Tesfaldet (125.8)
Wyatt Meyer (182) vs. Jeff Nielsen (183.6