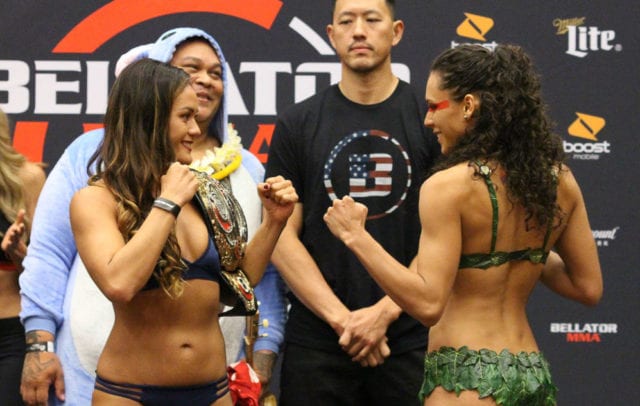 It's once again fight day here at LowKickMMA, and the talent on display tonight (Friday, June 29, 2018) will come in the form of Bellator 201. Headlining the card are Ilima-Lei Macfarlane and Alejandra Lara, but there's a whole bunch of great fights also taking place on the rest of the main card.
Ilima-Lei Macfarlane and Alejandra Lara meet in a female flyweight title bout in the main event. In round 1, Lara went right in for the takedown and got it inside the first minute of the round where she would slide into guard while in top position. Macfarlane was doing a good job of her ground defense with using her high hips and having a high guard in to keep her in place. Lara spun out and took her back then moved to side control. In round 2, Macfarlane came out and clinched with her up against the fence. Lara held her own as they traded from being on the outside and applying the pressure. Macfarlane got the takedown with a judo throw and landed in side control. Macfarlane dominated the rest o the round with strikes. In round 3, Lara went for a spinning strike but Macfarlane caught her and took her down where she would get full back mount and rain down strikes from this position. She is working her with elbows from the top now in the third. Macfarlane now in full mount where she continued the onslaught. Macfarlane locked in the armbar for the win and to retain her title.
Saad Awad and Ryan Couture meet in a lightweight bout in the co-main event. Couture came out on fire as he was pressing forward by throwing kicks and strikes. He calmed down and clinched with Awad, who was able to land some knees to the gut. They seperate and go back to striking. Couture clinched him briefly but Awad was able to break it and fired some wild strike. Awad kept stunning him with right hands then swarmed him with strikes and this one is a wrap.
Valerie Letourneau vs. Kristina Williams is next in a female flyweight bout. In round 1, they had a feeling out process early. Williams knocked her down with a strike but Letourneau crawled back up to her fence. Letourneau dropped her with a huge right hand and swarmed her with elbows and punches from top position while in guard. Williams did a good job of defending these strikes and did so until the referee stood them up. In round 2, the pace slowed down in this round but Letourneau was pressing forward with leg kicks. Williams was trying to pressure her with a blitz of strikes and never backed down. They had a wild exchange while inside. Williams missed a wild head kick. Williams is holding her own more in the second round against the vastly experienced Letourneau. Williams is banged up a bit as we head to the third round. In round 3, Letourneau scored a takedown right out of the gate and got full guard in top position. Letourneau continued the beatdown by controlling the majority of this round with strikes from the top. They were stood up and Williams went for a guillotine choke but Letourneau was in no danger and got out to end the fight. The judges gave Letourneau the decision win.
Opening the main card on Spike TV is Juan Archuleta vs. Robbie Peralta in a featherweight bout. In round 1, Archuleta shot for a takedown but Peralta stuffed him and they clinch up against. Archuleta finally got a takedown and pressed him up against the fence. Peralta got back to his feet and they clinch again. Archuleta was able to separate and they had a brief exchange until they took a step back. Archuleta was able to land a head kick then went straight in for a takedown but Peralta put up a great fight. Peralta broke the clinch with a big uppercut. They exchange to the bell. In round 2, Archuleta got a takedown right out of the gate and put him on his back. However, Peralta put up a good defense and was able to get back to his feet where they clinched up against the fence. Peralta was working for a takedown surprisingly but Archuleta stuffed it. They had another exchange before Archuleta went for a takedown that was stuffed. In round 3, Archuleta dropped him with a big overhand right then landed some strikes on the ground to end the fight.
Here are the results for this event:
MAIN CARD (Paramount Network/9 p.m. ET)

Bellator Flyweight Championship: Ilima-Lei Macfarlane def. Alejandra Lara by submission (armbar) at 3:54 of Round 3.

Lightweight: Saad Awad def. Ryan Couture via TKO (punches) – Round 1, 4:29

Female Flyweight: Valerie Letourneau def. Kristina Williams by unanimous decision (29-28×3)

Featherweight: Juan Archuleta def. Robbie Peralta by KO at 0:14 of Round 3.

PRELIMINARY CARD (ParamountNetwork.com/7 p.m. ET)

Jay Jay Wilson def. David Conte via submission (rear-naked choke) – Round 1, 0:59
Ed Ruth def. Andy Murad via TKO (punches) – Round 2, 4:59
Joey Davis def. Craig Plaskett via unanimous decision (30-26, 30-26, 30-26)
Tyrell Fortune def. Giovanni Sarran via TKO (punches) – Round 2, 4:35