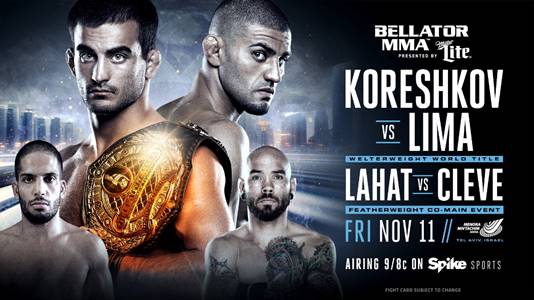 Bellator 164 took place on Thursday November 10th at the Menora Mivtachim Arena in Tel Aviv, Israel. The event will air on Friday, November 11th in the United States on Spike.
Andrey Koreshkov defended the Bellator welterweight title against top contender Douglas Lima in the main event while Noad Lahat took on Scott Cleve in a featherweight bout in the co-main event. Rounding out the main card was Georgi Karakhanyan vs. Kirill Medvedovsky in a featherweight bout and Lena Ovchynnikova vs. Karla Benitez in a flyweight bout.
Here are the spoiler results of the event so if you don't want to be spoiled then please stop reading.
Main card: 
Welterweight Title Bout: Douglas Lima def. Andrey Koreshkov by knockout (punch). Round 3, 1:21 to win the Bellator MMA welterweight title.
Noad Lahat def. Scott Cleve by submission (rear-naked choke). Round 1, 2:26
Lena Ovchynnikova def. Karla Benitez by unanimous decision
Georgi Karakhanyan def. Kirill Medvedovsky by TKO (shoulder injury). Round 1, 3:40
Prelim Card:
Chen Shhori def. Kfir Eittan by knockout (knee). Round 3, 2:41
Moish Rand def. Hitham Kayof by TKO (strikes). Round 1, 1:21
Elazar Tariku def. Ron Becker by submission (keylock). Round 1, 3:44
Alex Trofimov def. Sol Renato by split decision
Almog Shay def. Vitaly Khmeinytsky by submission (heel hook). Round 1, 1:45
Olga Rubin def. Laurita Likker-Cibirite by TKO (strikes). Round 1, 3:12
Raz Bring def. Maor Kazalkopy by TKO (strikes). Round 3, 1:40
Jackie Gosh def. Joaquin Buckley by TKO (punches). Round 1, 2:44
Alex Nikulin def. Avi Baron by TKO (strikes). Round 1, 0:54

Honor Kelesh def. Omri Barel by submission (rear-naked choke). Round 1, 3:02
Haim Gozali def. Zane Clerk by submission (heel hook). Round 1, 1:41