Bellator 163 Results: Phil Davis Defeats Liam McGeary By Decision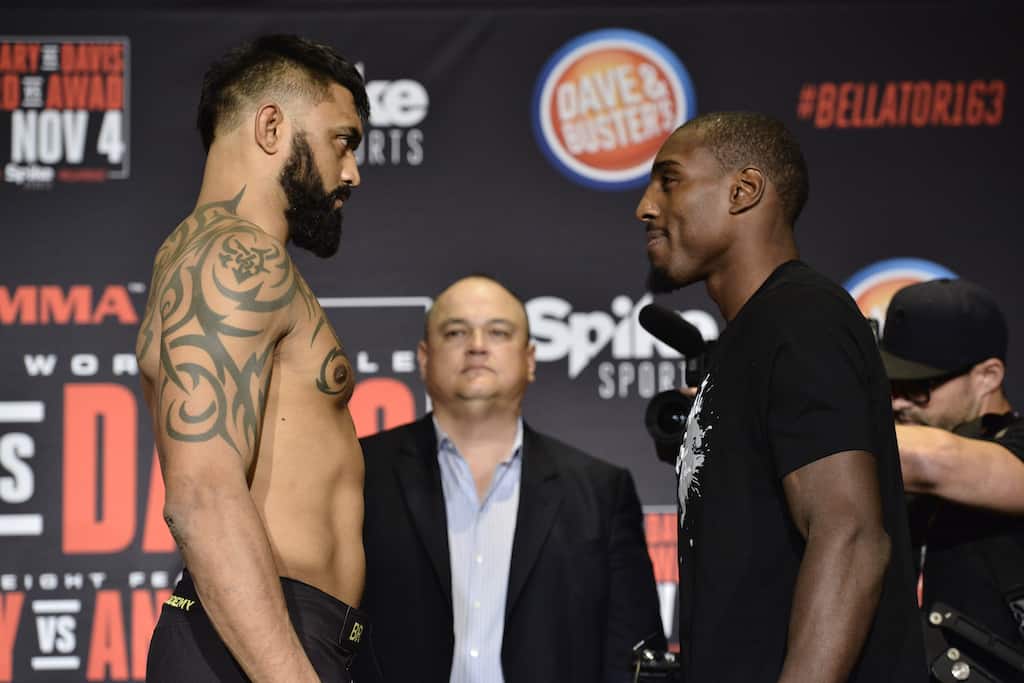 It's once again fight day here at LowKickMMA, and the talent on display tonight (Friday, November 4th, 2016) will come in the form of Bellator 163. Headlining the card are Liam McGeary and Phil Davis, but there's a whole bunch of great fights also taking place on the rest of the main card.
Liam McGeary and Phil Davis met in the main event of Bellator 163 for the Bellator light heavyweight title. In round 1, Davis was using heavy leg kicks early. Davis clinched with him early, and McGeary landed some knee strikes They separated. Davis took him down and got mount with three rounds to go. Davis pressed him up against the fence and landed some more strikes. McGeary made his way to his feet, but Davis dragged him back down to the round. They made their way back to their feet and exchanged for the remaining minute in the round. In round 2, Davis continues to throw legs, but they're light and not powerful. Davis scored a takedown with three minutes to go and got half guard where he landed strikes. McGeary was moving nicely off his back and using his long legs to get separation. Davis start landing elbows with two minutes go to while in half guard. Davis switched to mount and landed some big shots as well as elbows. McGeary kicked off the fence and got to his feet with 30-seconds remaining in the round. In round 3, Davis opened the round with a nice combo that led to him going for a takedown, which he finished with a slam. Davis got half guard and controlled him. He swept and got mount halfway through the round. Davis fired away with elbows from this position. McGeary kicked him off, but Davis pinned him back down and got mount once more. Davis ends the round on top. In round 4, McGeary worked over the body of Davis with strikes to open the round, but with about 3 minutes go, Davis took him down and got guard. McGeary went for a triangle choke, but Davis pushed through it and got mount halfway through the round. Davis busted him up with shots from this position, and McGeary started to bleed from his forehead. McGeary scrambled to his feet to end the round. In round 5, Davis shot in for a takedown to open the round but McGeary stuffed it. Davis went for it again, but McGeary dropped down and went for a submission, but Davis got out of it. Davis got in side control and worked him over with strikes. Complete domination by Davis. Davis won the fight by decision to become the new Bellator light heavyweight champion.
Saad Awad and Brennan Ward met in the co-main event of Bellator 163. This one did not last long at all, and it ended with fireworks. Awad went for a high kick but missed, and Ward went for a takedown, but it was stuff. Ward went for another one but ended up clinching with him up against the fence, and they separated. Ward clinched again and landed some knees to the body of Awad. Wards pours on strikes then dropped him with a left hand and finished him on the ground.
Neiman Gracie and Rudy Bears met in a catchweight bout. A quick fight that saw Gracie dominate. After a slow start, Gracie took him down midway through the round and got half guard. Moments later, Gracie got his back and worked him over with strikes and was trying to get a rear-naked choke. Gracie held him up with his body triangle, but Bears was doing a good job of defending. Gracie switched and got an armbar and Bears tapped. It was a delayed finish as Bears' arm snapped.
Opening the Bellator 163 main card on Spike TV was Sergei Kharitonov vs. Javy Ayala in a heavyweight bout. This one did not last long at all. Ayala comes out and shoots for a takedown, but Kharitonov stuffed it. Ayala landed a huge right hook, and Kharitonov went to sleep. The quickest knockout in Bellator history.
Here are the results for this event:
Main Card
Phil Davis def. Liam McGeary via unanimous decision (50-43, 50-45, 50-44)
Brennan Ward def. Saad Awad via knockout (punches) – Round 1, 1:26
Neiman Gracie def. Rudy Bears via submission (armbar) – Round 1, 4:39
Javy Ayala def. Sergei Kharitonov via KO (punch) at :16 of R1
Preliminary Card
Ed Ruth def. Dustin Collins-Miles via TKO (strikes) at 3:19 of R1
Tyrell Fortune def. Cody Miskell via TKO (strikes) at 2:22 of R1
Tyler King def. Josh Diekmann via submission (RNC) at 1:19 of R2
Tim Caron def. Steve Skrzat via TKO (strikes) at 1:22 of R2
Carlos Correia def. Ilya Kotau via split decision (30-27, 28-29, 30-27)
Hannah Regina def. Sarah Payant via submission (arm bar) at 4:51 of R1
Vinicius de Jesus def. James Boran via submission (rear-naked choke) at 1:55 of R2