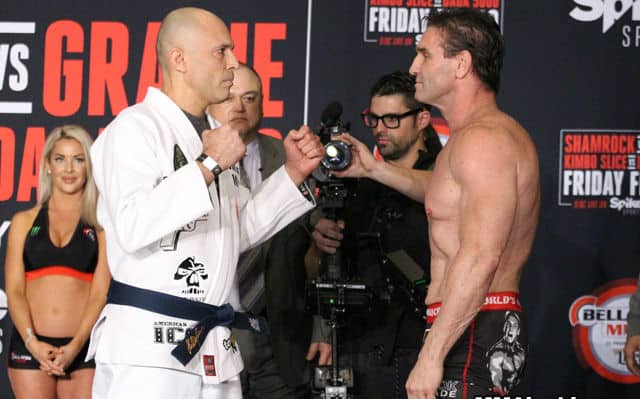 Bellator 149, which caused some majority controversy, did big ratings for the promotion and Spike TV. Bellator 149 averaged 2 million viewers for the entire 3-hour fight card on Friday, February 19 (9:00-12:04am ET/PT), which shattered the old record held by Bellator 138 with 1.58M viewers.
Kimbo Slice vs. "Dada 5000" served as the co-main event and was not a very good fight. Both guys were winded and did not put on a very good performance at all. In the main event, Royce Gracie defeated Ken Shamrock after kneeing him in the groin and then finished him off with strikes.
The event peaked during the  Slice – Dada fight averaging 2.5 million viewers (11:16pm-11:30pm) and a 2.3 rating with Men 18-34. The main event featuring drew 2.4 million viewers (11:54pm-11:57pm).
The event took place on February 19, 2016, at the Toyota Center in Houston, Texas.
Despite the lack of quality, the event drew a ton of interest from not only fight fans, but more importantly casual fans, which what every TV network is looking to grab.
The event had Mike Tyson on commentary for one fight as well as several celebrity in attendance and watching from the comfort of their home. While the event did not have great fights, it drew people in massive quantities and paid off for the promotion and Spike TV.
Bellator 149 marks the fourth Bellator event to draw over a million viewers. Bellator 138 (headlined by Ken Shamrock and Kimbo Slice), Bellator 131, (headlined by Tito Ortiz and Stephan Bonnar), and Bellator 106 (Eddie Alvarez and Michael Chandler) all drew over one million viewers.
The promotion has not announced the next "fun fight," which is what Bellator MMA President Scott Coker calls them, but with numbers like this, it's just a matter of time before we have another event like Bellator 149.