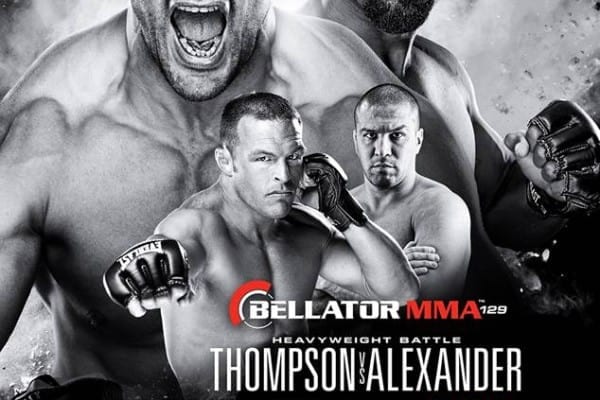 Bellator 129 went down tonight (Fri., October 17, 2014) from the Mid-America Center in Council Bluffs, Iowa.
The event featured a welterweight headliner between Josh Neer and Paul Bradley that turned out to be rather uneventful. Bradley used a smothering wrestling-heavy gameplan to win a unanimous decision.
UFC veteran and hometown favorite Houston Alexander fought Virgil Zwicker to a majority draw in the co-main event. Known mainly for his thunderous striking, Alexander had some solid takedowns in the first round until a headbutt to Zwicker halted the action and eventually lead to a huge bump on Alexander's head (courtesy of Vine):
The fighters traded some big shots in the second, and "The Assassin" got another takedown. Despite his top control, Zwicker persevered to land a huge knee. Alexander continued to score with his wrestling the final round, but another headbutt took a point away from Alexander. The infraction ended up costing Alexander the win.
Andre Santos used a high volume of looping punches to batter James Terry en route to a unanimous decision in an exciting fight. Santos improved to an impressive 37-9 with the win.
Joe Vedepo used superior grappling to earn a TKO over debuting Davin Clark at middleweight.
Main Card:
Paul Bradley def. Josh Neer via unanimous decision (30-27, 30-27, 30-27)
Houston Alexander vs. Virgil Zwicker declared a majority draw (29-28 Alexander, 28-28, 28-28)
Andre Santos def. James Terry via unanimous decision (30-27, 30-27, 30-27)
Joe Vedepo def. Davin Clark via R3 TKO (strikes, 2:27)
Preliminary Card:
John DeVall def. Chris Lane via R1 submission (triangle, 4:40)
Eric Howser def. Tim Bazer via R1 submission (strikes, 4:11)
Michael McBride def. Kevin Morris via R1 submission (rear naked choke, 4:32)
Martin Trey Brown def. Bryan Corley via R2 KO (punch, 0:42 )
Jozette Cotton def. Holly Lawson via unanimous decision (30-26, 30-27, 30-27)
Anthony Smith def. Brian Green via unanimous decision (29-28, 30-26, 30-26)
Victor Moreno def. Marcos Marquez via unanimous decision (30-27, 30-27, 30-27)