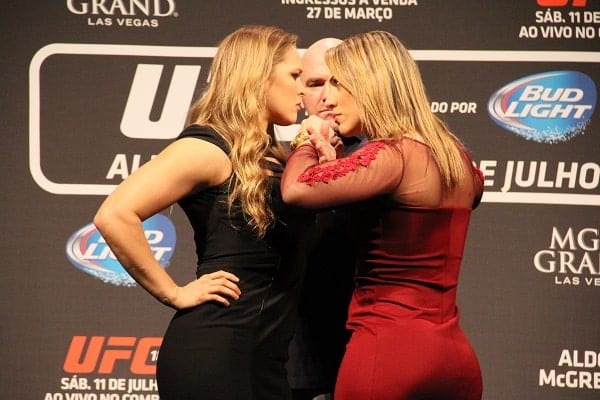 UFC 190 will see heated enemies go at it in the women's bantamweight division, as Ronda Rousey will look to make Bethe Correia pay for her recent 'suicide' comments. 'Pitbull' may have apologized for the highly controversial outburst, but it's likely that 'Rowdy' will neither forgive nor forget considering her father took his own life during her early years. This series of events has seriously escalated the rivalry between the long time champion and Brazilian contender.
Probably a good time for Correia to hit the gym and keep her head down, right? Wrong! she tells MMAFighting.com that she plans on making Rousey cry with pain head kicks:
"Ronda, you're not the superheroine you think you are. You are a farce, and I'll prove it on August 1," Correia said through a translator. "I'll give you the biggest beating of your life. I'll make you suffer pain, I'll make you cry in pain. I'll humiliate you, and you'll leave your belt here. You're not a champion. I'm a champion. I invite you to try your MMA game because your judo is not going to work here. I'm gonna beat you up and everyone is going to see it."
"I don't have any doubt that I'm going to win," she said. "I don't see myself losing. It never crosses my mind. My faith doesn't allow that. I see me knocking her out. If I end up submitting her, maybe she'll give me a guillotine or something like that, I'll take it, but I really want a knockout. I wanna knock her out with a head kick. I think it would be amazing. But if it doesn't happen, I can do it with my hands. I just want to give her something that she has never tasted before."
Nope, too easy, I'm not gonna do it.
As well as pioneering the sport of women's MMA (mixed martial arts), Rousey is really the only fighter to be part of huge rivalries at the top level. As well as settling beefs with Miesha Tate twice, the former TUF coach also has serious ongoing feuds with Bryan Caraway, Cris 'Cyborg' Justino, and now Correia.
Home advantage will be in the court of Correia, as the Brazilian will hope to steal the belt in glorious fashion, as she explains:
"It's normal that she has fans all around the world. When I go to the UFC I've seen lots of fans coming at me, a lot of people from the US showing hate towards her and love towards me, so I don't think there will be any more fans cheering for her than for me. Of course that are people that loves her, but when I walk on the streets there are people that stop me and say they want me to give them her mole as a gift. You can see how big this has become.
"The Brazilian people want another Brazilian champion, they want a woman Brazilian champion. Even if they were her fan, in their hearts they want to see another Brazilian champion. The nation will be the priority here, and I'm pretty sure everyone will be cheering me when I take the title from her."
There's almost a common opinion that fans are voicing right now; that 'Pitbull' should perhaps use some damage limitation, and cease the trash talk. Then there are those who believe she may be in the champ's head , and Correia, naturally, is a believer. Having taken out two of Rousey's stable mates during a nine fight win streak, Correia may have good grounds for that assumption. She continues:
"I think she's very insecure," Correia said. "That's why she only tries to use her judo. She doesn't try anything regarding MMA because I think she's afraid to lose. She's afraid to get hit and that's I think she has no confidence, so she only uses her judo. I'm here to show everyone that Ronda is a farce. She's not a complete fighter and I will show it to everyone. Her game is not going to work with me. She's going to try to use MMA and that's my comfort zone. I will show everyone that I'm better than her and she will lose."
"Every fight Ronda has the same thing, and her opponents are doing exactly the same thing," she continued. "They either rush to her, or they let her put them against the cage. Judo uses your own strength against yourself, and if you let her intimidate you on the cage you have nowhere to go. So everyone is doing the same mistake. But I'm studying Ronda, I'm studying her opponents, I'm studying myself, I'm studying everything. I won't commit the same mistakes they do. I'm working to do everything different and to put on a show, a MMA clinic for everyone to see. I won't accept her game, and her game is not going to work on me."
"She takes a lot of care about her looks, her beauty, but that means she's in the wrong place. The Octagon is for people that aren't afraid to get hurt, that doesn't care if you have a scar or anything like that. If Ronda is afraid of getting a little scar on her face, she can invest in her career as a model, an artist, because there's a champion here."
Bear. Officially. Poked.