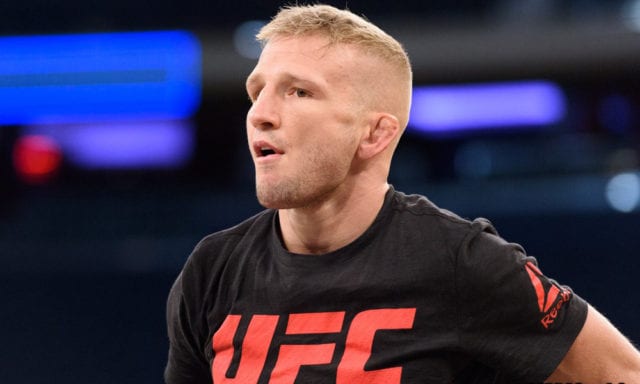 It looks like the champion-vs.-champion fight between T.J. Dillashaw and Henry Cejudo is going to happen.
A potential super fight between Dillashaw and Cejudo has been rumored since both fighters won their title fights at UFC 227. Dillashaw successfully defended his title on said night and Cejudo shocked the world as he knocked off the longest reigning UFC champion in history Demetrious Johnson.
According to Dillashaw who appeared on the Joe Rogan MMA podcast, the UFC is strongly considering booking the champion vs. champion fight for a yet to be determined card later this year.
"There's been nothing serious," Dillashaw said. "There's been hints, and we did a media tour together, and they put us on camera together and had us talk (expletive) to each other. They didn't say that. Everything we do is real, but it's like, 'Oh, (expletive), this is what you guys want? If you think you can beat me then (expletive) you, man. Let's do this (expletive).'"
Dillashaw eluded to the one potential sticking point on putting the fight together. That is what weight the fight will take place at. Both men can undoubtedly compete at either flyweight or bantamweight. However, only one man can challenge for a title.
Ideally, Dillashaw would like to move down and challenge Cejudo at 125 pounds. According to Dillashaw, that's just fine with Cejudo.
"I don't want no excuses that I'm the bigger man," Dillashaw said. "'25, especially with the coach I have now, Sam Calavitta. I was told I was going to fight Demetrious Johnson the summer before I fought Cody (Garbrandt) the first time. Within three weeks time I got down to 140 pounds."
The ultra-competitive Dillashaw will have much more on the line if these two meet than gold. He relishes the opportunity to become the UFC's third simultaneous two-division champion alongside Daniel Cormier and Conor McGregor. And the two-time bantamweight champ wants to prove that his wrestling is on par with the Olimpic Gold medalist Cejudo.
"The Henry Cejudo thing also entertains me so much because he's a (Olympic) gold medalist," Dillashaw said. "He wants to claim himself so much that he's the greatest combat sports athlete ever. 'I'm a UFC champion, I'm a gold medalist.' I'll go out there and beat you in wrestling. MMA wrestling is completely different. I'm the better athlete. I can beat him anywhere watching him fight. That's why I'm very excited about it. It's the greatest thing for my name right now, and it excites me a lot."
If you enjoyed this story, please share it on social media!