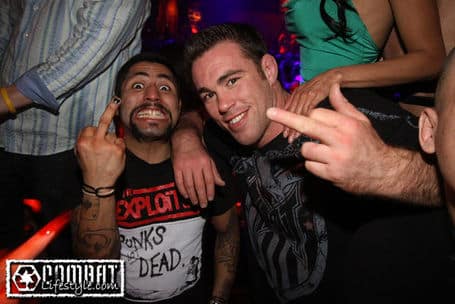 ("Take that, logic!")
With a pair of decisive losses in his last two Octagon appearances, Jake Shields's career is at a crossroads. He could try to scrape his way back up the welterweight ladder — starting with his fight against Yoshihiro Akiyama at UFC 144 — or he could try to re-invent himself completely. Since his homey Nick Diaz is now competing for interim titles in the same weight class, it's clear which way he's leaning:
"I would have no problem fighting there," Shields told MMAWeekly.com in regards to returning to 185 pounds. "It's something I've thought about before and I was thinking about it (before) this fight, but they offered me this fight (and) I took it. Especially with my teammate, Nick Diaz, challenging for the welterweight title, it's definitely in the back of my mind going up to 185 (pounds)…I'd fight sparring partners, but (Nick and I) are different. We trained together for, like, 11 years; so it's a little different."
So who does Shields have his eye on, hypothetically, at 185? Hint: It's the same guy he's always wanted — Anderson Silva. Oh Jake, you crazy dreamer. Here's what he told MMAFightCorner:
"That's a fight I've wanted for a long time. Anderson's a phenomenal fighter, one of the best of all time, but I just think stylistically the guys that match up best against him are wrestlers with good jiu-jitsu. Chael did great with him until he got caught in a triangle right at the end. His worst matchup's against good wrestlers and jiu-jitsu, and it's just he's a great matchup. Obviously it wouldn't be an easy fight because I think he has the best standup in the sport, but that's a fight I would love an opportunity to do…I'd love to see Nick take that [interim UFC welterweight] belt. And then at that point I'll try to get through Akiyama and then probably start putting on some weight."
I'm glad that Shields clarified that it wouldn't be an "easy fight," considering that he couldn't even handle Jake Ellenberger's striking. There's also the fact that — no matter what Jake accomplished as a middleweight in Strikeforce — he'd have to work his way up the ladder at 185, and the contender pool there is deeper than ever. With Chael Sonnen, Mark Munoz, Michael Bisping, and Demian Maia battling for the next two title shots, Anthony Johnson already making a run up from welterweight, and Josh Koscheck considering the same thing, middleweight is a hot mess right now.
Make no mistake, I give Shields massive cojones-points for wanting to see how he stacks up against the best in the world, especially since Georges St. Pierre claims that he'd need himself and Anderson to sit out for an indefinite period of time before he does it himself. But it's really not worth discussing until Shields beats a couple of UFC middleweight contenders first — and does it with such authority that the fans actually want to see a Shields vs. Silva superfight come together. Okay, we might be approaching "alternate universe" territory here. The only thing we know for sure is that Jake had better not lose to Akiyama.