Arnold Allen on the most difficult factors Max Holloway brings to the table: "When he fights, he's an absolute a***hole."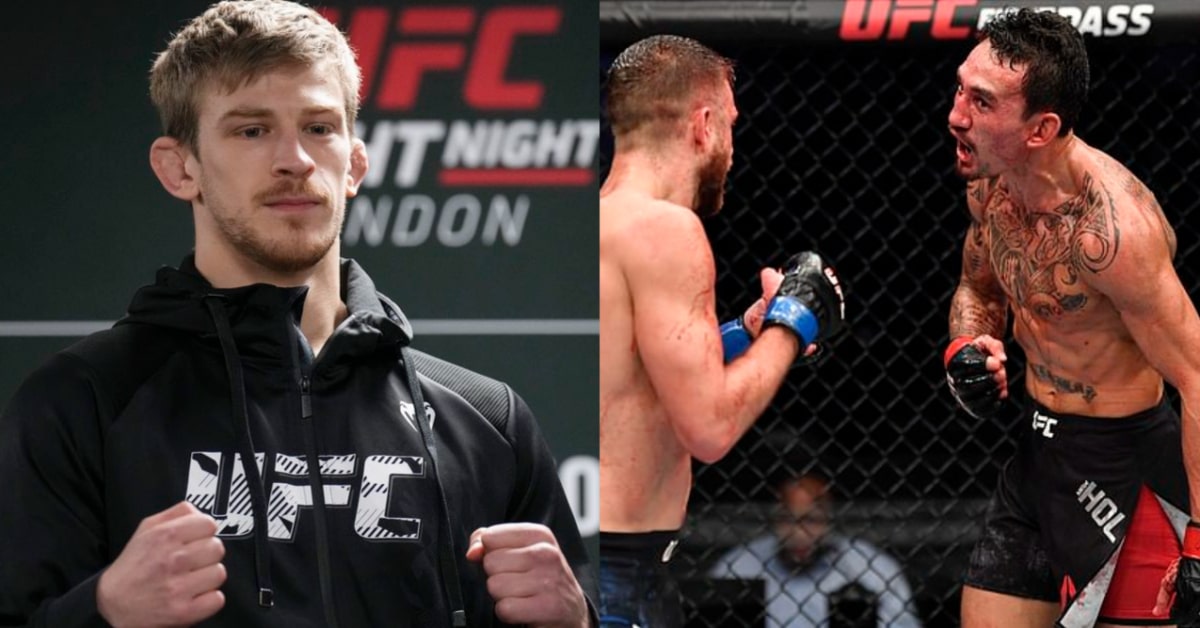 UFC featherweight contender Arnold Allen believes Max Holloway's gamesmanship is one of the most difficult factors the Hawiann brings to his fights.
Arnold Allen and Max Holloway are set to face off in the main event of a UFC Fight Night event set to take place in Kansas City. This will be Allen's highest-profile bout to date, with Holloway a consensus 145lb GOAT contender, alongside Jose Aldo Jr. and Alexander Volkanovski.
A win over Holloway will likely seal Allen's status as the No.1 contender in the UFC's featherweight division and set him up to face the winner of Alexander Volkanovski vs. Yair Rodriguez which will likely take place later this year.
In a recent exclusive interview with LowKickMMA, Allen was asked what he believes are the toughest parts of Holloway's game. The surging Brit had the following response:
"He's just tough as f***. He doesn't get tired. He doesn't slow down. He throws 100 punches a round, or something crazy… But no, I think the main thing with him, he seems like a really nice guy, but when he fights he's an absolute a***hole. He's pointing at you, he's mocking you. You hit him with a shot, he's absolutely mocking you. It's that gamesmanship. That's the thing that's the biggest factor for him, not necessarily the skillsets he brings. Obviously, the tools he's got are very good, but that's not what you have to prepare for. It's the rest of the stuff."
Will Arnold Allen become the first person to finish Max Holloway?
There are few fighters on the planet that can say they have defeated Max Holloway in a Pro-MMA fight, although Alexander Volkanovski and Conor McGregor both hold that accomplishment on their resumes. However, no man has ever finished the Hawaiian, who has become known as one of the most durable fighters to compete in the UFC.
Arnold Allen is not perturbed by this fact, and is confident he has the ability to finish anyone in the division, including Holloway.
"Whoever it is, the goal is always to get him out of there. I haven't got the highest finishing rate in the UFC and all that, but he's been hit a lot. And I know the power I've got in my hands. Anyone I've trained with, anyone I've sparred with, knows that I've got power. I believe I've got the capability to do that and put anyone out in the division. But, you have to be prepared to go five rounds with someone like this. I've fought some very tough guys in the past and hit them with some good shots… Like Gilbert Melendez, he was quite hittable in our fight, but I realized I wasn't hurting him to the head, so I just sort of peppered him to the body."
How do you think Arnold Allen will fare against Max Holloway?