UFC 199 was far more than just a drama-filled night for the fighters, as highly respected MMA journalist Ariel Helwani engaged in a bit of drama himself.
Helwani revealed on Twitter shortly following the card's co-main event that he and his staff had been escorted out of the arena, as well as having their credentials removed and given a life-long ban from all future UFC events.
Monday afternoon Helwani detailed the incident in it's entirety, live on The MMA Hour:
""Right before the main event, a member of the UFC PR staff told me that 'Dana White wants to speak to you". Michael Bisping was about to fight Luke Rockhold, and I had the feeling this wasn't going to be the most pleasant conversation, and I didn't feel like anything was good going to come out of it. So I said look 'I want to watch this fight, I don't really want to go back and talk to him.'"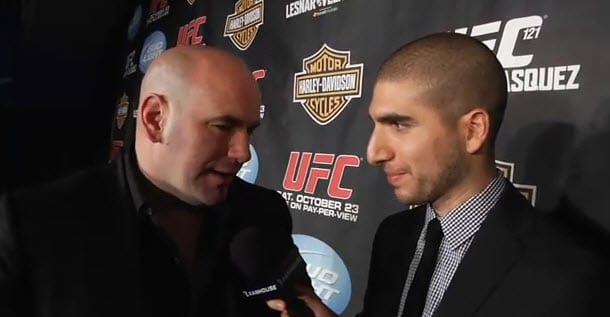 Helwani, however, appeared to have no choice but to speak to the UFC President, so he brought along a colleague as he did not feel comfortable going in alone:
"A couple minutes later, a higher ranking PR person came to me in a very serious way and said 'you must come to the back.' And I said 'I'm not going to the back unless my colleague Casey can come with me.'
"I didn't want to go alone. I didn't know what was going to happen, I wasn't going to go into that storm alone. After some back and forth he agreed to let Casey come back with me. 
"So we go to the back, it was just a hallway a few steps from the media room, the main event is about to start by the way, and Dana White is there, some other members of his team are there, and he just says to me 'You're out, get out of here. You're done, we don't want you here anymore, go to Bellator."
"I said 'Why?' He said 'You're too negative'. I said 'How is what I'm doing any different than all of the other great sports journalists out there?' "
Apparently UFC CEO Lorenzo Fertitta was not too pleased with Helwani's releasing of the news that former heavyweight champion Brock Lesnar would be returning to the Octagon at UFC 200:
"I was talking about a guy who was getting ready to sign a contract to fight, I wasn't talking about super secretive stuff. I wasn't talking about the sell. I wasn't talking about disparaging things. It's all a little bit embarrassing because I'm not doing any real investigative journalism here. This is fight stuff."
But then Helwani was kicked out of the event because UFC co-owner Lorenzo Fertitta apparently wanted him out, which lead to some harsh words being thrown around. Read on to the next page to find out Helwani's side of the story.
"He said, 'Lorenzo wanted you out of FOX', and that happened, and, 'he wants you out of here and so you're out.' Now I will say a lot was said in this conversation, I think initially he wanted it to just be 'You're out, see you later.' But a lot of words where said and a lot of what I thought were mean-spirited things things were said. "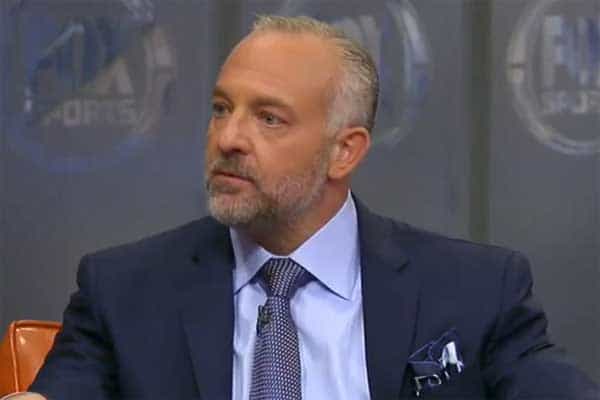 Helwani was reluctant to reveal just what was said during his exchange with White, however, he did express his admiration for the UFC's President:
"I'm not going to betray that trust, despite the fact that they did that, and I'm not going to repeat all of it. But when you have someone of Dana's stature saying the things he said to me it does affect you.
"I said look Dana, as I've said in many interviews and as I've said on this show, I owe a lot to Dana White in particular. I really do.
"And I don't think he was torn up over it, I think he was pretty upset that I beat them to the punch so to speak, but that's how I kind of felt in the moment."
White also told Helwani that Lesnar himself was apparently very upset with the news of his return leaking out before the promo was revealed:
"He also said that Brock Lesnar was really upset about the news, now its interesting, Brock Lesnar went on ESPN Sports Center and said he doesn't know who I am.
"Of course thats not true, thats just Brock being Brock, he has said this many times before. The whole Undertaker thing, I don't really take offense to that, but I did ask some people if that was true, about him being upset, and they said that couldn't be any further from the truth. 
"Brock Lesnar is getting paid a lot of money to fight at UFC 200, he couldn't care less who's reporting what. I think we know that by now, when it comes to Brock. "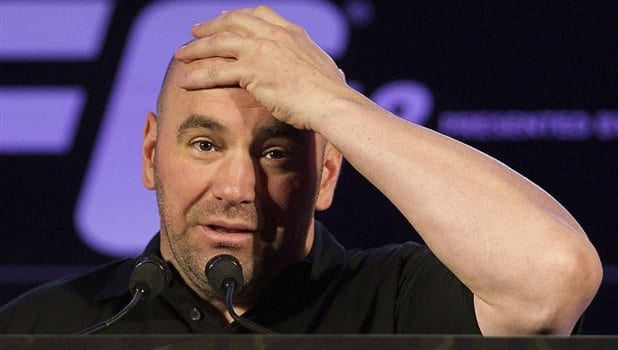 A UFC PR spokesman then told Helwani that he should have had the 'professional courtesy' to run the news by them first:
"In the midst of this conversation, the PR person standing behind Dana White said that I could have had the professional courtesy to run this by them.
"This to me is an unbelievable line of thinking. Why? Well, how about the fact that the night before, Brett Okamoto of ESPN asked Dana White if Brock was in negotiations to fight at UFC 200, and he told him no.
"So whats the difference? You think he was going to tell me that? At best I would've gotten a 'no comment.'
"I probably would have gotten a 'don't report that' as I've gotten in the past. And been forced to sit on things, as I've been forced to in the past."
A passionate Helwani then went on to say that there is nowhere in the 'rulebook' that says you must run things by the company you're reporting on before doing so:
"I graduated form one of the very best journalism schools in the world, Syracuse University, the SI Newhouse School Of Communications, and trust me, nowhere in the rulebook does it say you have to run things by the the organization when you're about to report them.
"What they do teach you is, if you have at least two credible sources confirming this news, and you feel strongly and are confident that this is right, you're good to go.
"No matter what it is. So to hear that I should have had the professional courtesy, to run something by them, to me is just mind-blowing. Because time and time again we're either told 'no comment' or we're just lied to. "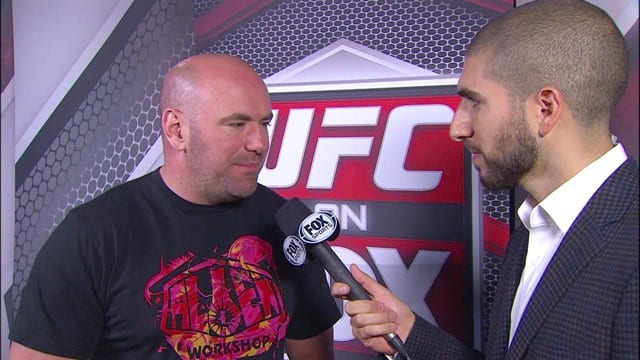 Helwani then stated he does not hold any ill will towards White, and that he hopes the conflict can soon be resolved:
"So I told Dana that I really thank him for everything that he's done for me, again I don't hold any ill will towards him. He's done a lot, I extended my hand to shake his hand, and I think he shook. I don't remember to be honest but I think he did.
And I said 'I hate that this is happening and I hope that at some point you will reconsider this, I understand that you are mad and I'm not going to create a stink. But I really hope that cooler heads will prevail.' "
White apparently also told one of Helwani's colleagues that his wife, who was sitting cage-side, also had to leave the arena:
"He then looked at Casey, who has been my videographer since 2009, my partner in crime I think he's the best, not just in MMA but in sports, and asks him if his fiancee, he referred to her as wife, but they're not married just yet, asked him if she was cage-side.
"He said yes, and Dana said that she has to leave as well. And that really bugged me because they did nothing wrong. I've been with them for a long time, and I consider them good friends, and I didn't want to see them leave and not be able to do their jobs.
"And I hope this doesn't affect MMAFighting, if it affects me– my colleagues didn't do anything wrong and to be honest I didn't do anything wrong, but at the end of the day they're mad at my reporting. I'm the one. They shouldn't have to face repercussions in my opinion. "
The group was escorted from the arena all the way to their vehicles in the parking lot, making Helwani feel like he was 'being watched like a dog':
"He told me to leave, again other things were said not that important at this moment to go over them, I thanked him and we went to the back.
"Someone followed us, someone stayed with us as we packed all our stuff, it was disappointing Michael Bisping's music was playing and it was all just very surreal. They watched us, like we were— I felt like I was being watched like I was a dog, they watched us pack our things and they walked us out.
"Like literally walked us out till we were pretty much next to our car just to make sure. In fact as we were about to go into the car I opened Twitter, and I saw that Michael Bisping became the middleweight champion I was like 'I can't believe all this is happening.' "
Helwani was extremely emotional during the course of the show; however, he did state that it is going to take a lot more than this to get rid of him as he plans to stay covering the sport for a long time. Do you think we'll ever see Helwani back at a UFC event again?