Antonio Silva Is Seriously Fighting That Steroid Charge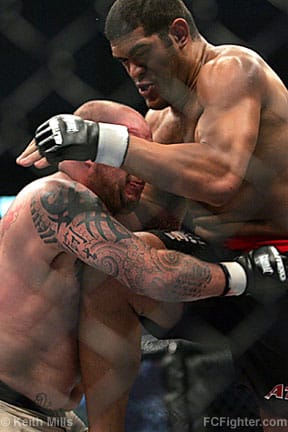 (Photo courtesy of FCFighter.com.)
No, it's not like he was hoping we'd all forget about it. EliteXC's heavyweight champion Antonio "Bigfoot" Silva — who pissed dirty, horse-steroid style following his TKO win over Justin Eilers at "Unfinished Business" in July — has enlisted attorney Howard Jacobs to help him formally appeal his suspension. Jacobs is the same lawyer who helped Sean Sherk knock his one-year Nandrolone suspension down to six months. Silva has until tomorrow to file an appeal, then 30 days to request a special hearing for his case. Without the appeal, he would have to appear at the CSAC's next public hearing, scheduled for November 20th.
As MMA Weekly reports, Silva and his camp maintain that his medical condition of acromegaly, or "gigantism," precludes him from taking steroids in the first place:
Silva's American representative, Alex Davis…said that Silva's tumor has caused him to produce as much as 20 times the normal amount of growth hormone in the body. "It would be completely insensible or even dangerous to make use of any other steroids or substances that could worsen that kind of problem," he said. Following the CSAC's suspension, Davis says he had Silva tested for steroids at the Aegis Sciences Corporation — a facility he says is on the CSAC's approved list of testing facilities — and results were negative.
Who knows if it'll actually help his case, but Silva does have a credible explanation for why he might have tested positive for the anabolic steroid Boldenone. And it illustrates a lesson that some mixed martial artists have been learning the hard way: Research your goddamned supplements.
Davis thinks the red flag arose from Silva's use of Novedex, an over the counter testosterone booster…Novodex's maker, Gaspari Nutrition USA, warns professional athletes of a possible positive test for steroids. "We strongly suggest that you discuss use of Novedex with your sanctioning body before using it," the website writes. "With results this powerful, you might be wrongfully accused of 'cheating.'"
CSAC Executive Director Armando Garcia claims that Silva didn't disclose that he was taking Novodex in his pre-fight medical questionnaire. And that's a problem for Bigfoot, because he's going to have trouble pinning the blame on his supplement, and the CSAC never admits that they screwed up the testing. Better hope your lawyer has the Midas touch, buddy, or we won't see you until next summer…