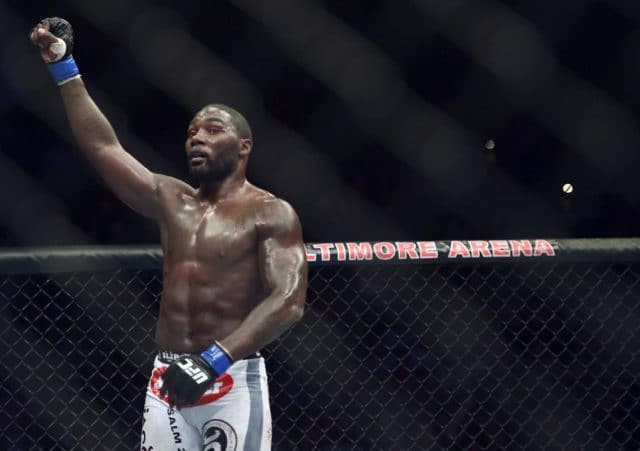 Top light heavyweight contender, and former title challenger Anthony "Rumble" Johnson made headlines earlier this week when he released a statement on his official Facebook page bashing a girl who was working out in a Florida gym that Johnson trains out of.
Apparently there was a confrontation between the two which lead Johnson to post an extremely nasty post in which he called the girl "ugly" amongst a plethora of other insults. "Rumble" quickly took responsibility for his actions by apologizing, but the UFC announced that they would still conduct an investigation.
With Johnson's history of domestic violence accusations, fans and media members talked about the possibility of "Rumble" being suspended or even being pulled from his upcoming UFC 191 bout on September 5, 2015 against Jimi Manuwa.
However, it seems as if the investigation has been done and the UFC is not suspending Johnson nor pulling him from UFC 191. However, that does not mean that the promotion condones his actions, and Johnson has agreed to counseling as well as making a donation to a women's charity.
Check out the UFC's full statement below courtesy of UFC.com:
"Following a thorough investigation by a third-party law firm, UFC® is extremely disappointed with Anthony Johnson's recent actions, as the organization does not tolerate behavior of this nature from any athletes under contract with the UFC. Johnson personally apologized to the woman he verbally offended at a Florida gym last week and for the insensitive comments he made on social media afterwards. The woman accepted Johnson's apology and indicated a desire to put this unfortunate matter behind them. In order to ensure these situations do not happen in the future, Johnson has agreed to participate in counseling and UFC will support him through this process. Johnson has also agreed to make a donation to a Florida-based women's charity." "Johnson will face Jimi Manuwa at UFC 191®: JOHNSON vs. DODSON 2 on Saturday, September 5 at the MGM Grand Garden Arena in Las Vegas."
Has the UFC taken the correct steps regarding the situation?
If you enjoyed this story, please share it on social media!