Nobody's perfect.
Ultimate Fighting Championship (UFC) light heavyweight slugger Anthony Johnson has been praised by many for his unprecedented career turnover. "Rumble" was released by the UFC for failing to make weight for the third time in his career back in 2012. The former welterweight went on a six-fight winning streak outside the UFC, which included a unanimous decision over Andrei Arlovski in a heavyweight bout.
Johnson was welcomed back in the UFC and he took advantage of his second chance. After dominating Phil Davis for three rounds, "Rumble" earned a knockout victory over Antonio Rogerio Nogueira and a TKO win over Alexander Gustafsson. Johnson fell short against Daniel Cormier in a 205-pound title bout, but his comeback trail is still remarkable.
It isn't just his work inside the Octagon that has been commended. Johnson's motivational posts on Facebook have also caught the attention of fans. Unfortunately for those hoping to find some more inspiration yesterday (Aug. 18, 2015), they instead found a now deleted rant against an "ugly" yoga girl. Here's just the beginning of the post:
"To the ugly girl in the gym built like a bag of dry dog food, this is for you. If you get in my way or any other athlete's way again I'll throw your yoga mat across the gym AGAIN."
Yikes!
Johnson defended his actions on Twitter last night when he caught flak for the rant. Today, he sang a different tune. "Rumble" apologized for the post and you can see the screenshot below: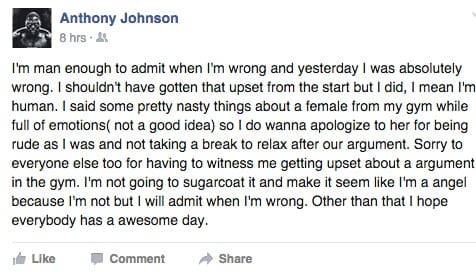 With this situation hopefully behind him, Johnson will have to overcome a much bigger task. "Rumble" will meet Jimi Manuwa at UFC 191 on Sept. 5, 2015. The "Poster Boy's" only career loss came to Gustafsson back in March 2014. Johnson may have beat "The Mauler," but we all know mixed martial arts (MMA) math doesn't always add up.