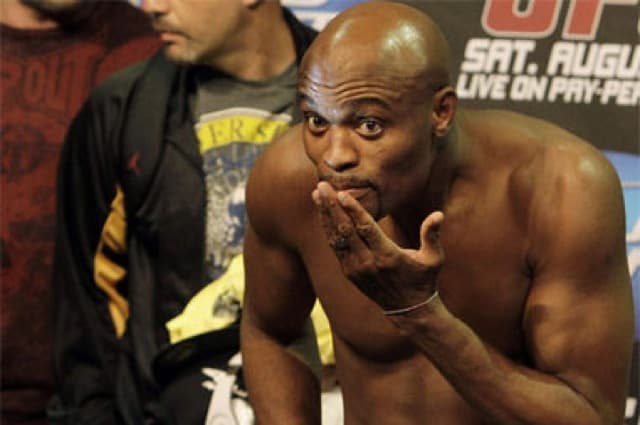 Huge news has broke in relation to Anderson Silva's notorious failed drug test. The former UFC middleweight champion got popped for steroids in the wake of his UFC 183 win over Nick Diaz, and his NSAC (Nevada State Athletic Commission) hearing has been pushed back twice now. The former champ vigorously denied using any sort of PEDs (performance enhancing drugs) but it seemed the evidence against him was damning to say the least, until now.
MMA journalist Larry Pepe broke the news over Twitter earlier today, stating that the test sample sent to Sports Medicine Research & Testing Laboratory (SMRTL) was positive, but the test from Quest labs was negative, leading to this break in the case:
"Source tells me there are conflicting fight night tests. SMRTL was positive (as SMRTL test was on 1/9) but Quest Labs did test same night close in time and Anderson was negative. SMRTL B sample being tested but results are not back yet. Either way, I would assume that Silva team will use the inconsistency of the two labs' results to discredit the SMRTL positive test dated 1/9 and also point to SMRTL negative test dated 1/19 in arguing to NSAC that results are unreliable or, alternatively, that he should get reduced sentence. If you are wondering, yes, this is similar to Nick Diaz case where Quest & SMRTL were also in conflict.""
Silva's UFC 183 opponent Nick Diaz also failed post fight drug tests, but then we learned that tests taken on the very day of UFC 183 returned conflicting results for the Stockton brawler. Something is amiss here, either both Silva and Diaz have had a terrible run of luck under exactly the same circumstances, as highly unlikely as that sounds it could be possible, or the Quest laboratory has failed to pick up marijuana in the case of Diaz, and steroids in the case of Silva.
Diaz has launched an investigation in to his failed dope test,  and now it seems that there is light at the end of the tunnel for Silva too. These inconclusive results do not explain why he failed follow up tests for sleeping and anti anxiety pills though.
What do you think about this ongoing and controversial fiasco?