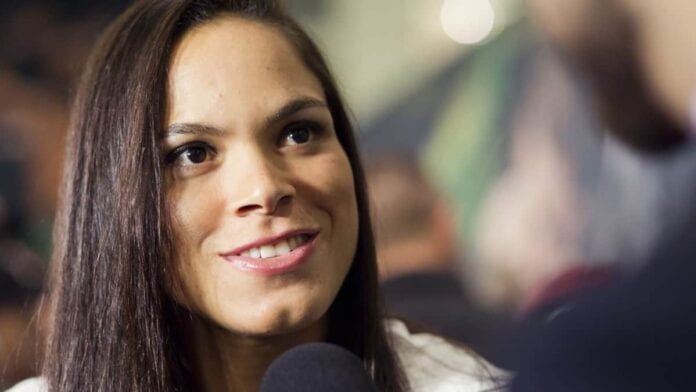 Amanda Nunes recently stated that she would prove to everyone that she deserves a shot at dominant bantamweight queen Ronda Rousey, and she may have done just that at last night's (August 8, 2015) UFC Fight Night 73 from Nashville.
Nunes took on former Olympian and former title challenger Sara McMann on the main card, submitting McMann in the first round, and making a statement in the process.
The Brazilian also earned a post-fight bonus, and now believes that she is dangerously close to a title shot. However, she understands that Rousey is supposedly scheduled to meet Miesha Tate next, and therefore, Nunes is willing to take another fight in the meantime:
"I'm close now," Nunes (11-4 MMA, 4-1 UFC) told MMAjunkie after her first-round submission of McMann (8-3 MMA, 2-3 UFC) on the FOX Sports 1-televised main card of Saturday's event at Bridgestone Arena in Nashville. "I see she has a fight coming up. I'm happy to have one more fight. Whatever happens, I'm going to be ready."
Nunes isn't worried, however, as she believes that she'll have her title shot soon. She also doesn't feel the need to trash talk like other former contenders, stating that she will continue to knock people out, and let her fighting do the talking:
"I don't need to talk," she said. "I'm going to step into the cage and do my thing. My next fights are going to be like this: I'm going to win more bonuses and knock people out. For sure, I'm going to have my title shot soon."
As far as who could be next for the surging Brazilian, she recently mentioned that she would like rematches with top contenders Alexis Davis, and Cat Zingano, and she reiterated that statement once again, saying that she wants a top-5 fighter:
"I'll take it," she said. "Cat, Alexis Davis. There are a lot of girls in the top five that I would take."
Despite possibly having to take another matchup, Nunes' mind is on Rousey, and she believes that it would be a solid fight. No one has really been able to challenge the champ, but Nunes' believes that due to her striking, and her background in jiu-jitsu, and judo, she would be able to offer up a unique challenge:
"I keep getting better, and I have pretty good striking," Nunes said of a potential matchup with the champ. "I think it's going to be a very good match, because background is in judo and jiu-jitsu, like Ronda. She's now better in striking. That's why it's going to be good."
In a division in desperate need of contenders, could Nunes actually challenge Rousey?