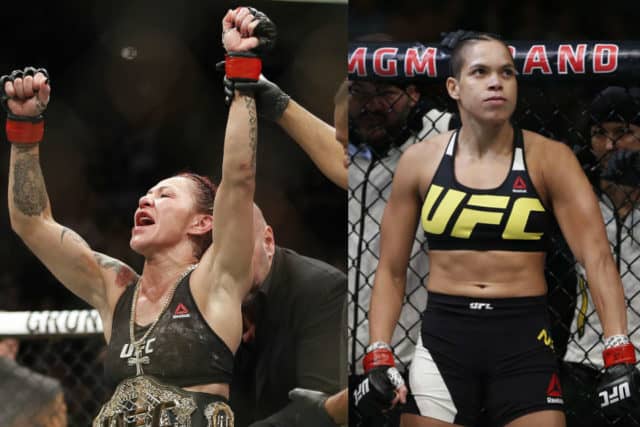 The tensions between UFC women's featherweight champion Cris Cyborg and the of team UFC women's bantamweight champion Amanda Nunes could not be any higher at this point.
For a quick recap, Nunes' head coach Conan Silveira, has been campaigning for his fighter to take on Cyborg, which would no doubt be a super fight.
UFC President Dana White has stated previously that Cyborg vs. Nunes is the bout that the promotion wants to make.
Cyborg has explained her position on the possible fight with Nunes in the past. As for the reason, it's due to her not wanting to fight a fellow Brazilian.
Instead, she is willing to fight Invicta FC women's featherweight champion Megan Anderson.
Cyborg released a lengthy statement on Thursday in which she ripped Silveira. You can read it here:
"What do I think about Conan Silveira saying I need the fight against Amanda Nunes to leave my name in history?

I think it is a joke that Conan says I need the fight against Amanda Nunes to leave my mark on the sport. He is one of the biggest 'creonte' [how Carlson Gracie called fighters who switched teams] in the history of Brazilian MMA. You are talking about a guy who took everything Brazil taught him and sold it to the American's [sic] for nothing. In Brazil, martial arts is about respect, rivalry, competition, and honor.

When Chute Boxe was fighting Brazilian Top Team in Japan, they didn't need the coaches to grab the microphone and give interviews for the fighters. Conan doesn't stand for honor and respect, he is loyal to whoever is going to pay him the most money. That is why Conan didn't stand with Master (Ricardo) Liborio, because the Americans are paying him too much money to care about his students calling everyone in Brazil trash and filthy animals.

Imagine if Colby Covington acted the way he does and then went to train with the old school legends of BTT. Do you think Alan Goes, Nogueira and Ricardo Arona would have let him disrespect an entire country like that? Conan will stand with whatever team is willing to pay him the most money, and that will always be his legacy in the sport.

The day Dan Lambert stops paying his salary is the day he will stop representing American Top Team and put his legacy back up for sale, except this time Brazil will remember."
Silveira issued a statement to MMA Fighting responding to Cyborg's aggressive words on Friday. In the statement, he continued to defend his position on the possible fight and questions if Cyborg is willing to "test" herself against "The Lioness."  You can read it here:
I'd like to first respond by saying I have nothing but respect for Cyborg, as a champion and fighter. I'm not sure why she chose to speak negatively about me because this has nothing to do with me. It has nothing to do with any of the people or countries she was talking about.

This is about two champions at the top of their games. About making a great, historic fight. Fans, fighters, and the UFC want to see big fights, big events and I think this qualifies as one.

Just recently you had GSP vs Bisping, and Mayweather vs Pacquiao. All great champions who wanted to compete and test themselves against the best. There's no disrespect coming from my part towards Cyborg or her team. We simply think this can be a legendary fight between two tremendous champions.

Who doesn't want to see that? At the end of the day, they're fighters and that's what they do. Why not make the most of this opportunity and compete to see who rises to the top? Amanda stated she wanted to fight the winner of Holm vs. Cyborg. So the real question is, Cris, do you want to test yourself and fight against Amanda in a great fight for all to see?

Amanda's in."