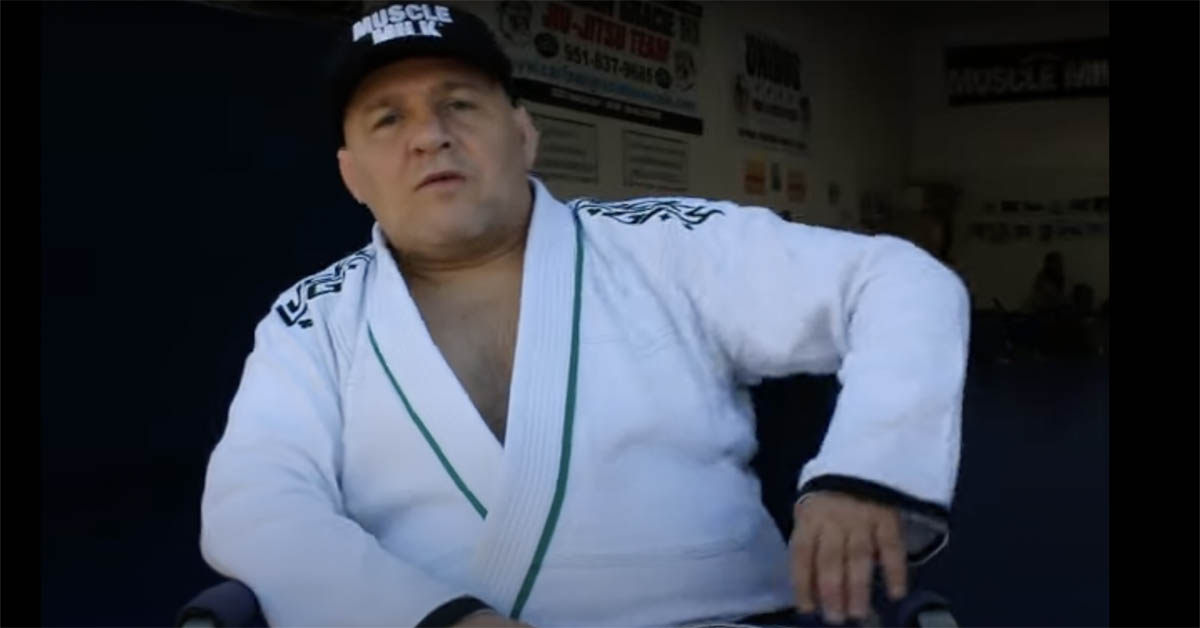 The Brazilian Top Team is one of the most successful MMA gyms in the history of the sport. They have produced numerous world champions in both MMA and BJJ and are looking to produce more.
Year established: 2000
Headquarters: Rio de Janeiro 
Founder(s): Murilo Bustamante, Mario Sperry, Ricardo Libório, Luis Roberto Duarte
Notable Fighters: Vitor Belfort, Murilo Bustamante, Paulo Filho, Antônio Rodrigo Nogueira, Antônio Rogério Nogueira
Championships: UFC Middleweight Championship, UFC Light Heavyweight Championship
Here is the complete story of the Brazilian Top Team and how the original super fight camp was formed. Going from the breakup of the Carlson Gracie Academy to the formation of BTT and their rise to the top.
Carlson Gracie Jiu Jitsu
Before the Brazilian Top Team was formed, the team's core members were students of the legendary Carlson Gracie. During the 1990s, Carlson Gracie Academy in Rio de Janeiro produced arguably the world's best fighters and grapplers.
Everyone from Murilo Bustamante to Mario Sperry were champions in both BJJ and MMA. Carlson Gracie Academy had firmly established itself as one of the best fight teams in the world.
Carlson Gracie Jiu Jitsu Breaks Up
During the late 1990s, tensions would arise between Carlson Gracie and his top students. At this time, Carlson had started to establish his first Jiu Jitsu school in the US.
He was spending a lot of time in Chicago, where the Carlson Gracie US HQ would be located. This time away from the academy created friction between him and many of his best students.
They were left to run his school for long periods, not knowing when their instructor would return. Many were worried about who would lead their fight camps for upcoming championships.
Particularly Murilo Bustamante, who was offered a title fight in the UFC that didn't transpire due to this issue.
Many things would happen that caused the split, but the main problem would be a contract produced by Carlson. His top athletes would give him a percentage of their purse and various other stipulations in this contract.
Carlson's athletes refused to sign because they didn't want to sign if he wasn't going to be around to train them. This dispute would lead to the expulsion of Carlson's top students. Which included Murilo Bustamante, Mario Sperry, Luis Roberto Duarte, and Ricardo Liborio.
Brazilian Top Team Forms
After the split from Carlson Gracie, the ex-students mentioned above would get together and discuss creating a new team. What they would form would be one of the world's best fight teams.
They would decide to call themselves the Brazilian Top Team. When they formed this new team, many of Carlson Gracie's other students left his school and joined BTT.
BTT's Meteoric Rise
When BTT was formed, it already consisted of some of the best fighters in the world. But now, they had a new motivation to put their fight team on the map and prove they were the best.
Immediately after establishing themselves in 2000, they would do just that and win on the biggest stages of MMA and grappling.
Ricardo Liborio Leaves BTT
Soon after BTT was formed, one of the founders, Ricardo Liborio, left the team. While in Florida for a competition, he was approached by businessman Dan Lambert.
Dan wanted to create a fight team in the US that mirrored the Brazilian Top Team. This would lead to the creation of the American Top Team.
Liborio notified his BTT colleagues that he was taking the offer and would leave on good terms.
Brazilian Top Team Wins Numerous Championships
During the 2000s, BTT would win championships in every major MMA promotion. Minotauro Nogueira would win the Pride Heavyweight Championship in 2001, and Bustamante would win the UFC Middleweight Championship in 2002.
Their immediate success quickly established BTT as one of the best fight teams in the world.
The BTT vs. Chute Boxe Rivalry
During Brazilian Top Team's rise to prominence, they developed a fierce rivalry with Curitiba-based Chute Boxe Academy. BTT's roots were in Jiu Jitsu, and Chute Boxe's roots were based in Muay Thai, which created a natural rivalry.
Fighters between the two camps would often meet in bouts within Pride. (Subtitles on for this video)
Brazilian Top Team Founders
Murilo Bustamante
Murilo Bustamante was one of the founders of the Brazilian Top Team. During this time of BTT's creation, Bustamante was also one of the top fighters in the world.
Before co-creating BTT, he won the BJJ World and Brazilian National Championship in 1999. Bustamante would then turn his attention to MMA full-time and win the UFC Middleweight Championship in 2002. Becoming the first Brazilian UFC title-holder in UFC history.
He would then spend most of his career fighting in Pride and retire in 2012 with a 15-8-1 record. Today, Murilo still teaches at BTT headquarters in Rio de Janeiro.
Mario Sperry
Mario Sperry was another of Carlson Gracie's top students who would help form the Brazilian Top Team. In the late nineties, Sperry would win every major grappling championship. Including the world championship three times and double gold at the inaugural ADCC tournament.
As an MMA fighter, Sperry would find success and earn a 13-4. Then along with being an accomplished fighter and coach, Sperry was also a competitive surfer.
Luis Roberto "Bebeo" Duarte
Luis "Bebeo" Duarte is one of the unsung heroes of creating the Brazilian Top Team. He played a vital part in the growth of BTT from one gym to becoming a full-fledged affiliation.
Duarte was responsible for opening some of the first BTT affiliate schools in the US. Today, he is still one of the team's leaders and runs his own school.
Ricardo Liborio
Ricardo Liborio was one of the students expelled by Carlson Gracie, who helped co-found BTT. After helping create the Brazilian Top Team, Liborio would move to Florida and help create the American Top Team. One of the biggest MMA teams in the world that BTT inspired.
Notable Brazilian Top Teams Fighters
Minotauro Nogueira
Antonio "Minotauro/Big Nog" Nogueira was one of the first stars of the Brazilian Top Team. In 2001, Nogueira would win the inaugural Pride Heavyweight Championship from Heath Herring.
Big Nog would defend his title multiple times before losing his belt to Fedor Emelianenko. He would have numerous battles in Pride before the UFC bought the company.
In the UFC, Nogueira would win the Interim Heavyweight Championship in a classic bout against Tim Sylvia. He would fight in the UFC for eight years until retiring in 2015.
Today, Big Nog and his brother Rogerio created their own MMA gym/affiliation Nogueira MMA. Minotauro also has various other business, which includes being a talent relations ambassador for the UFC in Brazil.
Rogerio Nogueira
Antonio Rogerio Nogueira is the twin brother of Minotauro Nogueira. Rogerio had a long and successful career in MMA that lasted two decades.
His illustrious career as an amateur boxer sets him apart from his brother. He won both the Brazilian National Championship and South American Championship in 2006.
Along with his amateur boxing career, Rogerio fought numerous bouts within the UFC and Pride. Ending his career with a record of 23-10 in 2020.
Since retiring from MMA, Rogerio has made a comeback in boxing and is currently 1-0.
Vitor Belfort
Before BTT formed, Vitor Belfort was their biggest and youngest star. Winning the UFC 12 Tournament when he was just eighteen years old.
After the Brazilian Top Team was established, Belfort would join them in their early years. He became the first Brazilian to win the UFC Light Heavyweight Championship in 2004.
After this, he signed with Pride and had a low point in his career. After returning to the UFC, Vitor would have a small resurgence and fight for titles in two divisions.
Today, Vitor Belfort has transitioned to boxing and owns a win over Evander Holyfield.
Paulo Filho
Paulo Filho was one of the Brazilian Top Team's rising stars in the 2000s. He spent early in his career fighting in Japan for Deep and Pride.
Filho competed in the last Pride Welterweight GP and qualified for the finals. Unfortunately, the promotion went under, which led him to the WEC, where he became the promotion's middleweight champion.
In his third fight with the promotion, Filho would miss weight and lose to Chael Sonnen in a rematch. For the remainder of Paulo's career, he fought in various promotions before retiring in 2014. Ending his career with a 23-6 record.
The Legacy of Brazilian Top Teams
The Brazilian Top Team paved the way for how the top MMA camps of today would construct their gym. During the 2000s, they were arguably the world's best MMA camp, with numerous world champions.
BTT has gone from the world's best MMA gym to a full-fledged affiliation. There are now numerous BTT affiliate schools throughout the US and Brazil.