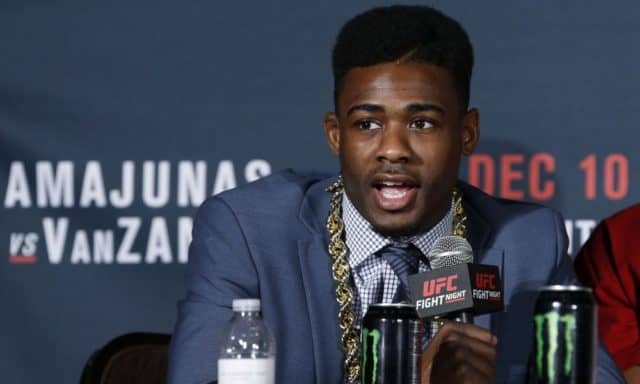 Last weekend (Sat. September 8, 2018) bantamweight challenger Aljamain Sterling picked up a submission win over Cody Stamann at UFC 228.
After his victory, Sterling called out former 135-pound champion Dominick Cruz to a fight next. "The Funkmaster" took to Ariel Helwani's MMA Show to explain his reasoning for calling out "The Dominator."
Sterling seemed to take issue with Cruz's "entitled" attitude towards a bantamweight title opportunity (quotes via MMA Mania):
"I'm not necessarily mad at him, but at this point in the game I think he's a little too entitled to feel he deserves a title shot after a one-sided loss," Sterling said.

"He got beat around from pillar to post in the cage against Cody Garbrandt. And Cody just got starched twice by T.J."
He then revealed an interesting theory on Cruz's strategy. Sterling believes Cruz is sitting around and letting the "real" contenders pick each other off until he's the last man standing:
"Then you don't fight for two years and think you're just going to sit and let all the real contenders, the fighters who are really putting in the work, come out and fight each other to eliminate each other so you can say, 'I'm the last guy standing because I was out.'

"F*ck that, you got to fight and stay relevant. I understand you're doing the commentary and you think that's your way to stay relevant. No bro, we're the ones putting in the work."
At this point, there's certainly no shortage of title contenders at 135 pounds. TJ Dillashaw comes off back-to-back wins over Cody Garbrandt – winning both via knockout. Marlon Moraes and Raphael Assuncao are both claiming the next shot at the title.
Perhaps one of these men will get the nod while Sterling gets his wish at a fight with Cruz or an interesting match-up with Assuncao.