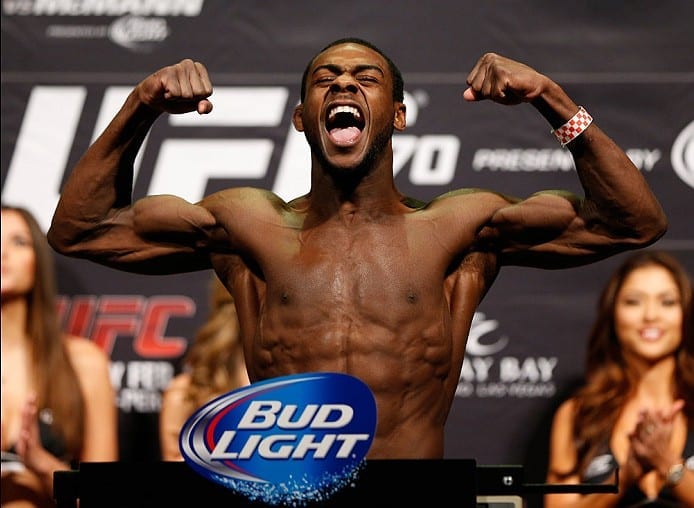 Aljamain Sterling is fresh off a win over Johnny Eduardo in a bantamweight bout at UFC Fight Night 80. This fight would mark his last fight on his UFC contract. However, Sterling wants the UFC to put up several fights in front of him so he can knock them down even though he plans to test the market. An odd situation.
"Let's line them up, man — let's line them up," Sterling said at the post-fight presser. "And I'll keep choking them out one-by-one. That's the mind I'm going by. I've got three fights, three finishes, and if I had my UFC debut on a little bit more notice I'd have won that one too, and I'd be four for four.
When asked about T.J Dillashaw vs. Dominick Cruz at UFC Fight Night 81 for the bantamweight title, Sterling admitted that he would like to have a shot at the title, but admitted that Urijah Faber will most likely get the winner of that fight instead.
"Oh yeah, 100 percent," he said. "I got my eye on that title fight in January. I know [Urijah] Faber's most likely the most logical guy for the title shot. It just makes sense. Him having such a big rivalry with Cruz and Dillashaw. So it makes sense, and that's the big money fight right there.
"[But] I think I'm the next guy in line. You've got Raphael Assuncao, he's got a seven-fight win streak right now, but he's injured, coming back from injury. So I go toe-to-toe next, or maybe Bryan Caraway will stop hiding under Miesha Tate's tit and fight me.""
UFC Fight Night 80 took place at the inside The Chelsea at The Cosmopolitan Hotel and Casino on Thursday, December 10th, 2015.
It will be interesting if Sterling leaves the UFC or stays. What do you think his decision will be? Let us know.