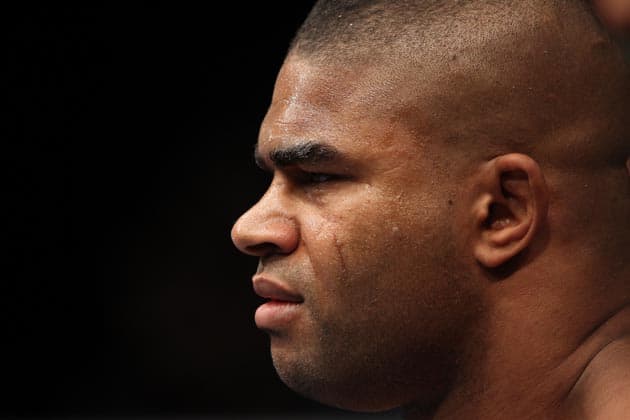 Mark Hunt is known to speak his mind from time to time and did just that after Alistair Overeem knocked him out at UFC 209 earlier this year. Hunt not only spoke his mind but put Overeem on blast after finding out that Overeem had received an IV to help him get over his food poisoning the day before the fight. Oh, by the way, IVs are banned.
Hunt, who has been very vocal against those who try to get an edge in the sport, did not shy away from his displeasure at the exception made for Overeem. Hunt doesn't believe that his opponent was really sick, and was instead simply looking for an extra advantage for the bout.
Overeem has had enough of Hunt's trash talk and decided to fire back at him. To be clear, while Overeem doesn't take it too personal, he was a bit disappointed in the comments.
"Mark is also one of those veteran fighters and I respect him a lot. But, in the end he is just a talker," said Alistair during a recent interview on The MMA Hour. "I fought him twice, I beat him as a light heavyweight, I broke his arm and I knocked him out as a heavyweight. Both fights I wasn't fit, as a light heavyweight, I was 106 kilos fighting him who was 145 kilos, that is 235 and he was 280 pounds. I broke his arm on five days notice. I got the call on a Monday and Wednesday I was on a plane and Saturday we fought."
Overeem is talking about his fight against Hunt back in 2008 under the now-defunct DREAM organization where he won via first-round submission. Then nine years later, Overeem once again picked up a win over Hunt via knockout over one of the hardest hitters in the game under the UFC banner.
"Now, I had a good camp but I had food poisoning the day before and I knocked him out. I don't know what he wants from me. I think I have shown to the world that I am the better fighter and all the other stuff, words don't hurt. He just talks becasue he has no evidence to back it up. I thought of him a little bit higher previously and I am a fan of his fight style, still am. But, mental wise, I think he is a little bit out there," added Alistair.
Overeem is set to take on Fabricio Werdum for the third time at this weekend's (Sat., July 8, 2017) UFC 213 pay-per-view (PPV) event in Las Vegas, Nevada. In that bout, he is looking to score his second straight win
"I expect a Werdum that's going to be very ready wherever the fight may be. I do believe that once Werdum starts to get hit hard, he will revert to his roots, his origins in the jiu-jitsu game. I'm not expecting anything, but ready for everything," he concluded.