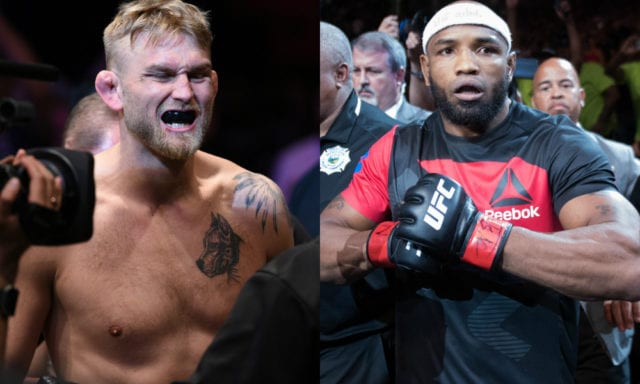 Alexander Gustafsson has discussed a potential fight with Yoel Romero.
If you recall, this fight was first brought up by UFC light heavyweight champion Daniel Cormier, who is slated to UFC heavyweight champion Stipe Miocic at the upcoming UFC 226 pay-per-view event on Saturday, July 6, 2018, at the T-Mobile Arena in Las Vegas, Nevada.
There is a lot of history between Gustafsson and "DC" as they have fought in the past as well as exchanged words through the power of social media because Gustafsson feels that he should be fighting for the title instead of waiting for DC to get done with his next fight.
The two fighters already faced each other at UFC 192 in 2015, where Cormier won via split decision.
Gustafsson has won back-to-back fights since losing a close split decision to Cormier at UFC 192.
In those fights, he scored a unanimous decision victory over Jan Blachowicz and knocking out Glover Teixeira.
Gustafsson took to his official Instagram account to discuss this fight as well as other potential fights. He wrote the following:
"In response to @dc_mma most recent tweet about me, I will fight anyone that is meaningful including @yoelromeromma If he can be ready on time. Here is what I want if @lukerockhold won't fight. I am prepared to rematch @shogunoficial or fight @volkan_oezdemir in Germany should someone not get his visa or get injured.

Alternatively I will step in for @dc_mma or @stipemiocic should there be an injury for the HW Title. Either way @dc_mma defend your belt already or relinquish it by December 2018 and stop waisting everyone's time. Oh and try not to miss weight as heavyweight!"