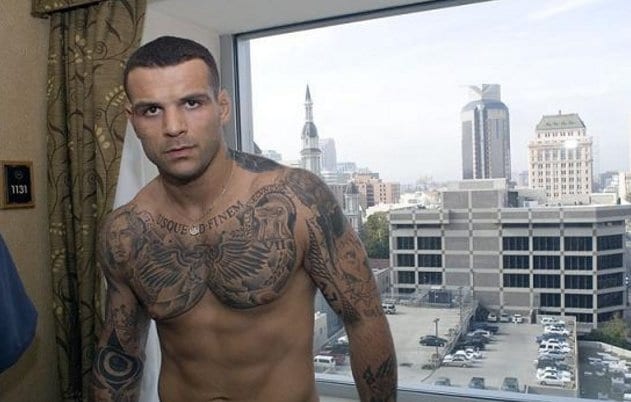 (Sakara will do absolutely anything to land this amateur modeling gig, you guys. Any. Thing. Props: MMACrypt.com)
The prevailing public opinion on Alessio Sakara has long been: Mediocre fighter, world class tattoos. Hell, even Jorge Rivera – who will fight him this Saturday at UFC 122 – admitted in interviews this week that he thinks Sakara has the best ink in MMA. With a middling 6-4 record in the Octagon (with one hard-earned no contest after Ron Faircloth kicked him in the balls at UFC 55)  it's even been suggested (OK, maybe just by me, but whatever) that the UFC's rationale for giving him second chance after second chance has more to do with his wicked physical appearance than his actual fighting ability.
One glance at Sakara tells you he's proud of his Italian heritage, but we had no idea exactly how into it he was until we got a load of his interview with Fighters Only this week. Turns out, not only does Sakara actually consider himself a modern day "solider of Rome" (his words), but he named his sons Leonidas and Marcus Valerian … which is not quite as weird as naming all your sons "Rampage," but still. That's dedication, people. Dedication to a proud history that ended in about 476 AD.

"SPQR I have on my body!" Sakara says, referencing the 'Senatus Populusque Romanus' tattoo on his forearm that marks him as solider for the Roman Empire. "I like Roman history very much, and Greek history. I read a lot of books. (My favorite period) varies a lot. I like Julius Caesar and Marcus Aurelius. Everything in Rome, every period is good for me. I like the Spartan culture too, very much … It is because my name Sakara is an old name in the Roman Empire, in the south. For this I put the nickname Legionarus, which means a soldier in the Roman Empire. I am a soldier for Rome now — I fight around the world, I fight for Rome and for Italy."
Like we said, it's a great gimmick but the way Sakara fights makes it seem like the Romans might have been hell on the Carthaginians, but not much for the ground game. At this point, it'd be nice if the "Legnionarius" could make his bones with a few signature wins in the cage. On that topic, Sakara himself has an idea: He's publically challenged Michael Bisping to a fight at a UFC event (where else?) in Rome. Don't know about you, but that's an idea I could really get behind.
 
"I have nothing (against) Bisping, only that he is a good fighter," Sakara says. "I said this only because Italy versus England in soccer is very good every time, very exciting for the fans. In Italy there is a lot of (MMA) fans, a lot of fans. They have small events but the problem is there is no big good company and there is no respect for fighters because we do not have the culture of this sport. But if the UFC comes to Rome I have a lot of support from the people because I have a lot of fans in my city."